The team comprises a cross-disciplinary group of oceanographers, climatologists, and mathematicians with expertise in observing, measuring, and projecting the physical properties of the oceans and coasts. Team members are highly regarded internationally and have contributed to several key IPCC reports and produced numerous scientific journal papers and reports.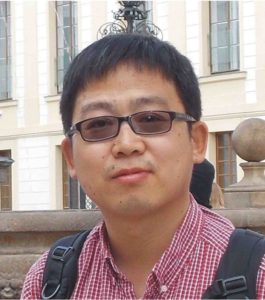 Xuebin Zhang
Xuebin Zhang joined CSIRO as a Research Scientist in 2010. He contributed to the Pacific Climate Change Science Program (PCCSP) and follow-up Pacific-Australia Climate Change Science and Adaptation Planning (PACCSAP) Program, by studying regional sea level change and projection for Island countries in the western tropical Pacific. Both PCCSP and PACCSAP programs were funded by the Australian Government's International Climate Change Adaptation Initiative. His research interests include ocean and climate change, sea-level rise, climate variability, ocean dynamics and numerical modelling, with particular interest in regional sea level change and variability, and associated underlying physical mechanisms. He led the CSIRO Ocean Downscaling Strategic Project to provide high-resolution (1/10 °) future climate change signals in the ocean simulated by CMIP5 climate models with a near-global eddy-resolving ocean general circulation model. Before joining CSIRO, he studied and worked at University of Washington, NOAA/Pacific Marine Environmental Laboratory (Seattle, Washington) and Scripps Institution of Oceanography (San Diego, California), mainly focusing on ENSO and tropical ocean dynamics by applying both in-situ data analysis and numerical modelling. More detail at: http://people.csiro.au/Xuebin-Zhang.

  An overview of our research is provided here.

Sea Level and thermal expansion

Extending the Global Mean Sea Level (GMSL) time series back in time using tide-gauge data, and forward to the present using both tide-gauge and satellite-altimeter data

First successful attempt to estimate a GMSL time series as well as regional patterns of sea level change for the second half of the 20th century published in 2004 (Church et al. 2004)
Assessment of the difference between, and variability of, coastal and global sea level published in 2005 (White et al, 2005)
The techniques used in Church et al (2004) extended backwards in time to estimate GMSL back to 1870. A significant acceleration in sea level rise in the first half of the 20th century was also detected. Published in 2006 (Church and White, 2006)

Understanding the variability in the historical sea level record, including the effect of volcanic eruptions on sea level

The first assessment of the effect of major volcanic eruptions on sea level and ocean heat content published in 2005 (Church et al, 2005)

Estimating ocean thermal expansion and ocean heat content changes over the last 50 years using historical ocean temperature data

Ongoing work, with other groups, producing better estimates of ocean heat content, doing comparisons with model estimates, and also helping to tie down estimates of climate sensitivity is in progress.
Closing the sea level budget for the latter part of the 20th century.

Satellite data processing

Satellite altimeter data processing and calibration

 We have been working with satellite altimeter data since the late 1980s (GEOSAT)
We have been actively involved in development of processing techniques since early in the TOPEX/Poseidon mission.
We have run a satellite altimeter (TOPEX/Poseidon and Jason-1) calibration site at Burnie on the north coast of Tasmania since before the TOPEX/Poseidon launch in 1992. This site has been progressively upgraded with a permanent co-located GPS receiver, as well as calibration campaigns involving GPS buoy deployments and moored oceanographic equipment (pressure gauges, current meters and temperature/salinity meters).
We have been involved in the TOPEX/Poseidon Science Working Team (SWT) and its lineal descendants (for Jason-1 and Jason-2) since the late 1980s.

Ocean waves

Study of the variability and change in the global wind-wave climate

We lead work in the Coordinated Ocean Wave CLImate Project (COWCLIP) (Hemer et al, 2012)
Reanalysis, CMIP3 and CMIP5 data have been used as forcing data for the WaveWatchIII wave model
We are currently undertaking analysis of COWCLIP contributing data to improve statistical understanding of uncertainty in wave climate projections

Collection, analysis and dissemination of global and national scale wind-wave observations and model data

We partner with the Bureau of Meteorology to produce a wave hindcast of the global ocean, with high resolution grids around Australia and Pacific island nations, from 1979 to the present (Durrant et al, 2014).
Our wave modelling data contributes to the Australian Renewable Energy Agency (ARENA) project to characterise ocean renewable energy resources
We have created the Australian Wave Energy Atlas as part of AREMI-NationalMap
Wave model outputs are validated against wave buoy data and independent satellite altimetry.

Ocean energy

Characterisation of ocean renewable energy resources and potential environmental effects

 Australia is widely recognised as having an abundant wave energy resource which could contribute to the country's future energy mix. The team has used their wave modelling data to provide details of the national wave energy resource (Hemer et al 2016).
To support the development of the wave energy industry in Australia we provide best practice guidance on the influence of arrays of Wave Energy Converters (WECs) on the hydrodynamic attributes of the surrounding ocean. These guidelines have been developed as part of the Australian Wave Energy Atlas Project (AWavEA) and address the limited evidence-base and methodology for assessing impacts of wave energy extraction on the marine and coastal environment.
The development of the guidelines combines information obtained from field observations together with numerical modelling.
We are also looking at tidal energy resources around Australia as part of the ARENA project.

Sea level impacts and extremes

Study of the effects of sea level rise and other climate factors on the frequency and magnitude of coastal extreme events (e.g., storm surge)

Coastal extreme events resulting from sea level rise as a driver of natural hazards in the coastal zone (McInnes et al, 2016).
Modelling synthetic tropical cyclones to study extreme events (Hoeke et al, 2015; McInnes et al, 2016).

Study of areas at risk of coastal inundation

Inundation of Pacific islands as a result of distance wind-wave swell (Hoeke et al, 2013).
Targeted studies of Pacific islands.
Coastal modelling for Australian local councils.