CoreProfiler
Getting more from your core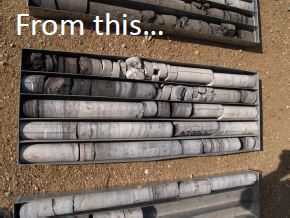 Since 2007, CORE PROFILER has provided exploration and mining companies with a tool that logs core to scale, enables rapid and consistent logging, allows geotechnical measurements to be made directly from the core.

The problem
Central to all geological characterization, including the interpretation of vast amounts of geophysical data, are geological observations made on drill core and chips.
Two factors that impede the quality and reliability of these observations are:
– inconsistencies of visual observations between observers
– a lack of tools to efficiently reconcile the observations against photographic records.
What we developed
CoreProfiler is a software based logging tool that uses CSIRO's Sirovision technology to build a scaled continuous image of drill core from hand-held core tray or core split photographs. The CoreProfiler software allows logging of geological and geotechnical information directly from the scaled image. Logging sheets, data dictionaries, reference images and links into the reference library are user-defined and can be set up to follow standard mine conventions. Images and data can be exported to the software packages most commonly used by mine sites.
The development of CoreProfiler (Release 1.0) was initially funded by the Australian Coal Association Research Program (ACARP project C15037). Since then, CoreProfiler (Release 2.1.1) has been extended to provide:
Out of the box support for the Australian Coal Logging Standard, although the logging sheets can be easily customised for use by the metalliferous industry
Support for oriented core measurements (alpha, beta, dip, dip direction).
Support for fracture frequency, RQD measurements and stereonet analysis
Tutorials
The videos below provide some helpful tutorials for Core Profiler users.
Getting Started
Building Scaled Core from Photographs
---
Performing Geotechnical Measurements
Contact information
Peter Dean
Phone: +61 7 3327 4152
Email: Peter.Dean@csiro.au
Commercial Partner
Datamine Software our commercialisation partner for CoreProfiler and they provide sales, training and support.
For any enquiry about CoreProfiler, please contact Datamine Software.