Overview
The mining industry must operate often in remote or harsh locations being forced to deal with extreme conditions such as floods, heatwaves, storms and droughts. Consequently, mines commonly build 'down time' into production schedules and incur costs to manage the various risks and impacts arising from climate extremes.
As many environmental conditions change, risk management based on past experience and past data may be increasingly ineffective. This challenge is coupled with increasing market demand for fewer interruptions. Stakeholder activism is driving some companies to address these issues as part of good corporate governance.
Hence, adaptation to climate is becoming an important strategic move for many companies. The drive to remain competitive and reduce climate related risks, while mitigating and climate impact is growing.
To date, CSIRO has surveyed the industry twice, performed mining industry workshops SA, WA and Qld and developed tools to help decision making. For example, the 'climate related adaptation from terrain evaluation results' (CRATER) method identifies flood-potential hot-spots around a mine and helps to select suitable adaptation options. We are currently developing a value chain vulnerability assessment tool specifically for the mining industry, based on a previous tool, successfully used by the food industry. Additionally we are developing the CRATER tool as a stand-alone application whilst also developing CRATER II that includes future climate scenario assessments.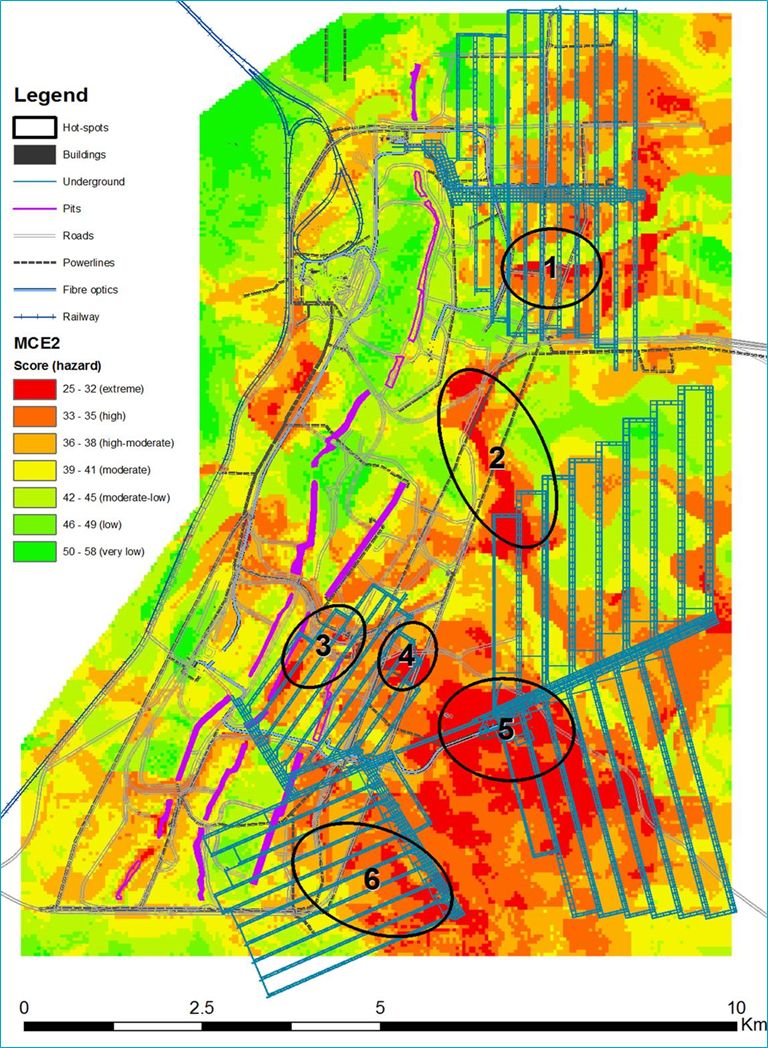 Heat map  showing areas of high flood potential in red. Mine site infrastructure is overlaid to identify specific vulnerabilities. The areas most critical to the mine ('hot-spots') can then be targeted for assessing adaptation options.
Publications
A collection of publications on this subject is located here.
Selected papers include:
Hodgkinson, J.H., Crimp, S., Jin, W., Kokic, P. and Grigorescu, M. (2017) Life-of-mine Planning Tools for a Changing Climate – Intuitive, Interrogative, Iterative, From start to finish – A life-of-mine perspective, AusIMM Spectrum Series Publication
Hodgkinson, J.H., Grigorescu, M, Khanal, M. (2016) Reducing mine-site extreme-rainfall vulnerability using CRATER, AusIMM International Mine management, 2016, 22-24 August 2016, Brisbane, Australia
Hodgkinson, J.H., Hobday, A. J., and Pinkard, E. A. (2014) Climate adaptation in Australia's resource-extraction industries: ready or not?  Regional Environmental Change 14:1663-1678 doi:10.1007/s10113M-014-0618-8 EP137613
Hodgkinson, J.H., Loechel, B., Woolford, C. and Crimp, S., (2014) Assessing the impact of climate variability and change on mining in South Australia, South Australia Workshop 20th June 2014, The Science Exchange, Adelaide. CSIRO Report EP146813
Loechel, B., Hodgkinson, J.H., Moffat, K. (2013) Climate Change Adaptation in Australian mining communities: comparing mining company and local government views and Activities. Climatic Change, 119 (2), 465-477, EP122933
Loechel, B., Hodgkinson, J.H., Prober, S. and Moffat, K. (2013) Climate adaptation in regional mining value chains: A case-study of the Goldfields-Esperance Region, Western Australia. Prepared for the Chamber of Minerals and Energy, Eastern Region, WA and the Goldfields Environmental Management Group. CSIRO Earth Science and Resource Engineering Pullenvale, Australia. EP137045.72pp
Hodgkinson, J.H., Grigorescu, M., and Alehossein, H. (2013) Staying afloat with CRATER: a decision making tool for mine management under extreme climatic events, NCCARF National Adaptation Conference, June 2013, Sydney (poster and presentation)