Coal burst risk assessment (CoBRA) & Climate adaptation in mining and CRATER
Coal burst risk assessment (CoBRATM)
Some underground Australian mines may experience a rare but extremely dangerous event known as coal burst. Developed 'Coal Burst Risk Assessment' (CoBRATM), which is currently a conceptual processes, that matches geological and physical character with coal burst likelihood.
Climate adaptation in mining and CRATERTM
Open cut mines that operate in remote locations may be exposed to harsh conditions such as floods, heatwaves, storms and droughts. To assist mines improve sustainability under such conditions we have:
Developed 'Climate related adaptation from terrain evaluation results' (CRATERTM), which identifies flood-potential hot-spots around a mine, helps select suitable countermeasures and delivers the most suitable option for that mine. CRATERTM is currently being developed as a stand-alone tool
Explored development of a value chain vulnerability assessment tool specifically for the mining industry, which will be based on a tool successfully used by the food industry
Twice surveyed the Australian mining industry to identify trends, key priorities and needs and accessed global databases the results of which are being used to develop a sustainability management framework suitable for mining
Performed mining industry workshops in SA, WA and Qld to encourage 'pit to port' mining chain adaptation activities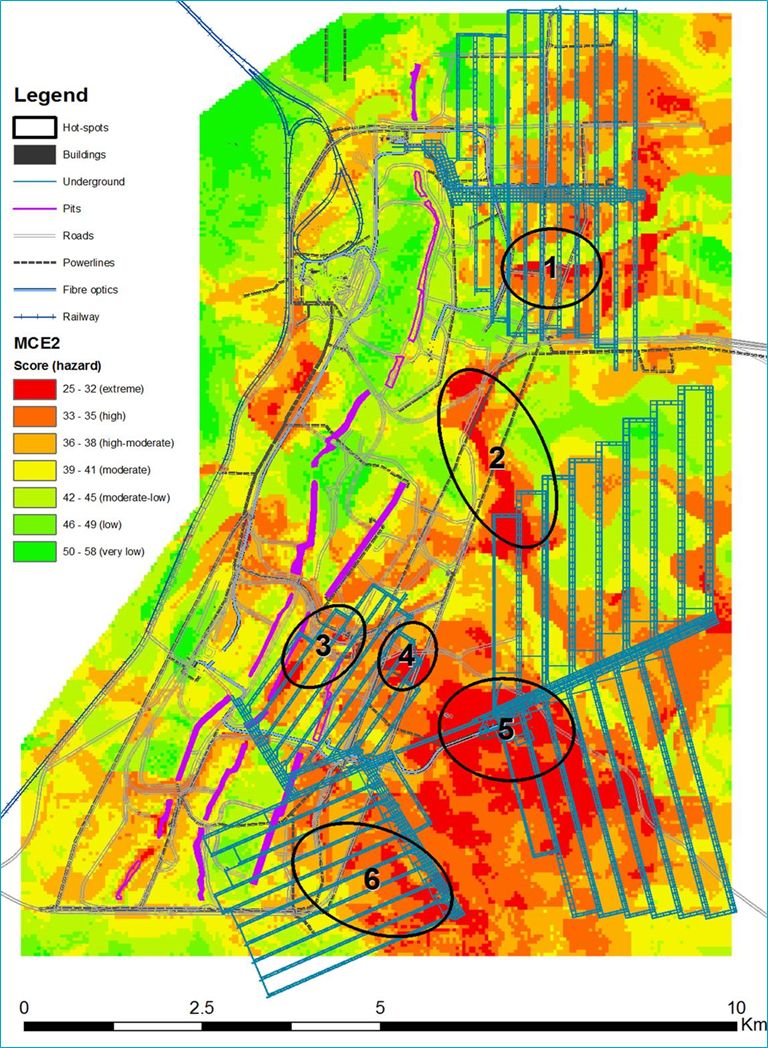 Heat map – the first step of the CRATER process, showing areas of high flood potential in red ('hot-spots') and low risk areas in green. Mine site infrastructure is overlaid to identify specific vulnerabilities. The hot-spots can be targeted for assessing adaptation options suitable to that mine.
Coal use
As the world moves to a low carbon economy, the future of mining Australian thermal coal is becoming a less attractive investment proposition. We have explored alternative (non-thermal/non-coking) coal use developments, markets and industries. We are looking to engage with planners on key future opportunities that will assure continued alternative, low-waste markets for what is currently considered to be thermal coal, and what is currently considered 'less desirable coal'.