Building new Earth observation capabilities in the South-East Asian region
Australia's national science and geoscience agencies, CSIRO and Geoscience Australia, are embarking on a new initiative to support the growth and implementation of Earth observation based products and services in South-East Asia.
The Earth Observation for Climate Smart Innovation project (EOCSI) will deploy a new Earth observation analysis platform powered by CSIRO's Earth Analytics Science and Innovation hub (EASI) that uses Open Data Cube technology. The new platform will be used to engage local government, business and education institutions to take advantage of Earth observation for the development of climate smart applications.
The EASI technology operates in a Cloud environment that gives users access to vast quantities of openly licensed satellite data without the need for local storage or supercomputing infrastructure. Users can then interrogate this data to better understand their local natural and built systems, such as tracking urban encroachment, deforestation or coastline degradation.
Products and applications derived from the platform could benefit many activities such as managing natural resources, food security challenges, climate change adaptation and mitigation, energy, transport and urban development.
The team have already got the ball rolling, running a series of masterclasses with students and industry members hosted by Indonesia's Kedaireka Academy and a training course for early adopters of the platform at Indonesia's Hasanuddin University.
By building relationships between Australian EO practitioners and South-East Asian counterparts, this project aims to strengthen regional science relations, support climate resilience, and promote sustainable growth and development.
Australian geospatial businesses will also have the opportunity to participate via workshops, training, hackathons and business support opportunities to develop end-use products for South-East Asia.
This project is funded by the Australian Government's Department of Industry, Science, Energy and Resources through the Supporting Australian Innovation in Asia Initiative, with contributions from regional partners.
For more information read the linked news stories below or watch one of our recorded events
Passcode for the 2021 Asia-Oceania Group on Earth Observations Symposium recording: y4k5+ek*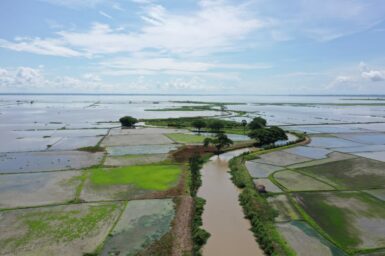 Measuring Water Quality in Lake Tempe