Resources
The table below has links to documents which provide further information relating to NovaSAR-1. If you require any further information please Contact us.
| | |
| --- | --- |
| Document Name | Content |
| NovaSAR-1_Level-1_Products | Describes the format of NovaSAR-1 Level 1 products with a detailed description of the metadata parameters, 03/06/2020, SSTL |
| NovaSAR-1_SNAP_1.0 | SNAP Usage Notes for NovaSAR-1, 17/03/2020, SSTL |
| NovaSAR-1_PSLV_C42_Launch | PSLV-C42 / NovaSAR and S1 launch, 2018, ISRO & Antrix |
| NovaSAR-1_AIS_Receiver | Satellite-AIS Receiver AIS-MS03 details, 2018, Honeywell |
| NovaSAR-1_2017_IEEE | NovaSAR-S Low-Cost Spaceborne SAR Payload Design, development and deployment of a new benchmark in spaceborne radar, 2017, Airbus Defence and Space |
| NovaSAR-1_2015_IEEE | NovaSAR: Next Generation Developments, 2015, Airbus Defence and Space |
| | |
| | |
Complimentary Ground Based Datasets
The Terrestrial Ecosystem Research Network (TERN) delivers measurements of key terrestrial ecosystem attributes over time at hundreds of representative locations across Australia for uses including the calibration/validation of satellite imagery. TERN provides these data open-access via a Data Discovery Portal. For more information visit the TERN website.
Read here about NovaSAR-1 data that has been acquired at TERN sites across Australia.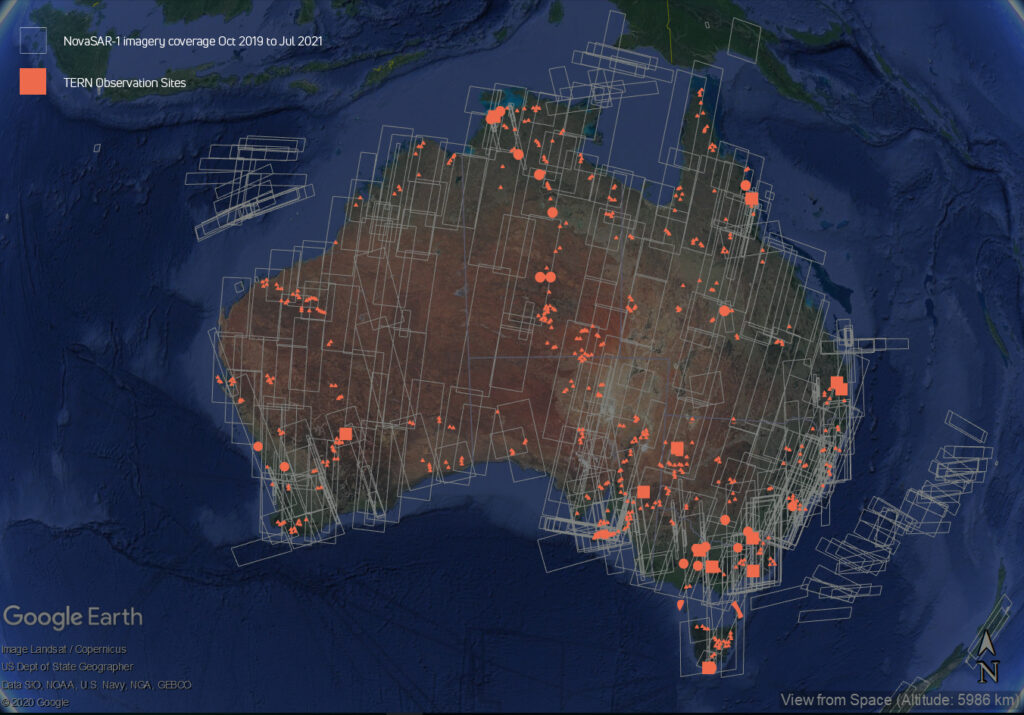 Online Synthetic Aperture Radar (SAR) Learning Resources
The links below are not specific to NovaSAR-1 but provide information and courses to help better understand SAR data.
Provider
Course Link
ICEYE
Airbus
ESA
L3Harris
NASA
soloEO
Acronyms
| | |
| --- | --- |
| .ACQ | SAR data |
| A/D | Analog-to-digital |
| AIS | Automatic Identification System |
| AOI | Area of Interest |
| ATNF | Australia Telescope National Facility |
| BNSC | British National Space Centre |
| CASS | CSIRO Astronomy and Space Science |
| CCEO | Centre for Earth Observation |
| CCSDS | Consultative Committee for Space Data Systems |
| COTS | Commercial-Off-The-Shelf |
| CSIRO | Commonwealth Scientific and Industrial Research Organisation |
| DRFS | Direct Radio Frequency Sampling |
| EEZ | Exclusive Economic Zone |
| EO | Earth Observation |
| ESA | European Space Agency |
| GIS | Geographic Information Systems |
| GS | Ground Station |
| HH | Horizontal Horizontal (polarisation) |
| HV | Horizontal Vertical (polarisation) |
| LTAN | Local Time Ascending Node |
| NASA | National Aeronautics and Space Administration |
| OPAL | Online Proposal Applications & Links |
| RADAR | Radio Detection And Ranging |
| RF | Radio Frequency |
| SAR | Synthetic Aperture Radar |
| SSO | Sun-Synchronous Orbit |
| SSTL | Surrey Satellite Technology Limited |
| UKSA | United Kingdom Space Agency |
| VH | Vertical Horizontal (polarisation) |
| VHF | Very High Frequency |
| VV | Vertical Vertical (polarisation) |
| AEST | Australian Eastern Standard Time |
| ISRO | Indian Space Research Organisation |
| TAC | Time Assignment Committee |