The unique fringing coral reef ecosystems of the Pilbara
The Pilbara region of north-western Australia is widely recognised for its unique and globally significant marine biodiversity. It's also an area recognised for its rich mineral and gas deposits, with industrial activity continuing to increase in the area. But how do we balance the conservation of marine biodiversity with the management of commercial interests? This is the central mission of the Pilbara Marine Conservation Partnership.
CSIRO in partnership with The University of Western Australia is conducting the first ever regional-scale assessment of the conditions of – and threats to – the Pilbara coasts and its coral reefs. This partnership, known as, The Pilbara Conservation Marine Partnership (PMCP), and which concludes in 2017 has been funded by the Gorgon Barrow Island Net Conservation Benefits Fund. The fund is administered by the Western Australian Department of Parks and Wildlife and approved by the Minister for Environment after considering advice from the Gorgon Barrow Island Net Conservation Benefits Advisory Board.
The PMCP is collating existing information on the Pilbara region, developing maps, and conducting studies on the oceanography and connectivity and relationships between different marine habitats. The research is creating a baseline assessment of, and threats to, key habitats and species. This will form the basis of longer term studies to understand reef dynamics, fish and shark populations, and rates of recovery on reefs and near-coast areas across the west Pilbara region, from Ningaloo to the Dampier Archipelago.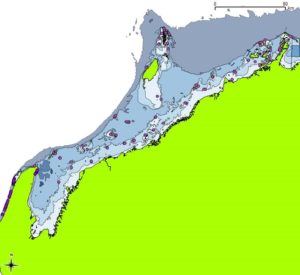 Research activities have been divided into three themes:
The research program has the potential to continue to provide ongoing advice and assessment for conservation efforts in the region, ensuring that the five-year program provides long-lasting tangible benefits to help achieve long-term sustainability in the region.
Expected Outcomes
The program is collecting information to support management and conservation of the Pilbara shelf. Using scientific and social processes the research team is delivering:
a regional scale assessment of conditions of, and threats to, marine biodiversity
an evaluation of the condition of coral reef ecosystems and fish and shark populations
identification of the most important processes driving variation in the ecosystem, and understand this variation in the context of natural and human-induced influences
identification of ecological benchmarks (i.e. points of reference against which to measure changes) and thresholds (i.e. points below which the ecosystem risks altering to an undesirable state)
This project is also contributing to broader marine conservation outcomes by providing the data and information needed to establish an ecosystem-wide regional context for environmental and industry monitoring programs, that will underpin marine management in the region.
Key organisational lead contacts for PMCP:
Dr. Russ Babcock (CSIRO)
Professor Shaun Collin (UWA)