Blockchain
This page is about our technical research on blockchain. See this page for our reports on how blockchain technology could be used across government and industry in Australia to deliver productivity benefits and drive local innovation.
Contact: Mark Staples (Mark.Staples@data61.csiro.au), Shiping Chen (Shiping.Chen@data61.csiro.au), Xiwei (Sherry) Xu (Xiwei.Xu@data61.csiro.au)
Overview
Blockchain is an emerging technology for decentralized and transactional data sharing across a large network of untrusted participants. It enables new forms of distributed systems, where participants can find agreements on their shared states without trusting a central authority or any particular participates. Our group is mainly working on three directions, including designing with blockchain, analyzing and improving trustworthy of blockchain, and legal reasoning with Smart contracts on blockchain.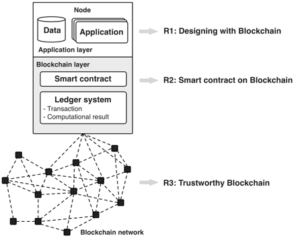 Research Capabilities
Designing with Blockchain

Blockchain as a component in system design
Impact of using blockchain on the quality attributes of the system

Defining and using smart contracts

Model-driven smart contract development
Declarative smart contracts for faster development, analysis and auditing
Visualization

Trustworthy Blockchain

Empirical studies on popular public blockchains
Formal studies
Live monitoring

Blockchain workloads and generation
Selected reports
Tools
Lorikeet
Ethviewer (Beta): A beta release of real time monitoring of the Ethereum Blockchain