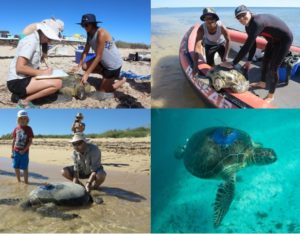 The Ningaloo Outlook research team will be out at Ningaloo reef in the new year to tag nesting female turtles. Its hoped that the tagging of these large females will help to gather more information on where they travel to and areas of importance. You will be able to track these animals at seaturtle.org
As part of tagging these lovely ladies, we would also like to give each a name …so we would love for you to suggest a few!
If you would like the chance to name a marine turtle, fill in our form by 31st December 2016.
We will release our top '10' names for you to vote on in early January 2017.
The competition has now closed.
View the short-list of names here!