Sorry… our competition has now closed…. our winning names are:
Jurabi
Ningles
Budgial
It was a close tie for third, with Myrtle losing out by a meager one vote!!!
Thank you to everyone who submitted a vote, with 665 were have been overwhelmed!
With such a fantastic response to the 'turtle naming' competition, the Ningaloo Outlook team had a tough job of selecting the top 10 for voting. But here they are (the name and why)!
You can select up to three favourites, so get clicking….
Ningaloo Outlook: vote for your favourite turtle name!
Jurabi – 'Because it is the first place I saw turtles with my mum' (47%, 312 Votes)
Ningles – 'Being born on the shores of the Ningaloo Reef I think it is appropriate for them to have a name that relates back to their birth place!' (20%, 134 Votes)
Budgial – 'It's an Aboriginal name for sea turtle from a popular Indigenous story about the turtle, the goanna and the fish' (16%, 104 Votes)
Myrtle – 'Because Yertle would be too obvious'; 'it has class'; 'Well of course it rhymes with turtle but it's also a girls name and it reminds me of lemon myrtle' (15%, 103 Votes)
Beatrix – 'The Latin origin of this name is Viatrix, a feminine form of the Late Latin name Viator which meant "voyager, traveller'. The B associates the name with being blessed, so the modern name (12%, 77 Votes)
Noorook – 'It means Egg in the WA Noongar Language. From the web site Noongarculture.org.au' (11%, 74 Votes)
Cleopatra – 'She had beautifully made-up eyes. These sea turtles also have beautiful eyes. They look ethereal' (7%, 49 Votes)
Shadow – 'Turtles are such graceful gentle gliders in the underwater realm … etc.' (5%, 30 Votes)
Biddi - 'I saw my first turtle near the Tantabiddi Jetty last year' (3%, 17 Votes)
Diamond – 'I like this name because the shape on the turtles shell is like a diamond' (2%, 12 Votes)
Total Voters: 665

Loading ...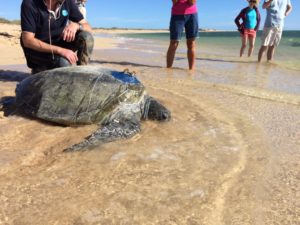 The winning names will be announced on the 18th January 2017.
The location of all turtles tagged as part of the Ningaloo Outlook research partnership can be viewed at seaturtle.org so why don't you watch their journey on your screen without getting wet and salty!