FRNSW Smoke Alarm Research
Fire & Rescue NSW (FRNSW) has released a research report into the efficacy of residential smoke alarms.
The report details the results of 25 scenarios that were tested in a specially constructed two bedroom unit at FRNSW's test facility in Londonderry in NSW. The two bedroom unit was constructed using various modern furnishings and furniture and the tests were conducted in a variety of locations throughout the unit.
As CSIRO's independent fire research testing and consulting team, Infrastructure Technologies was pleased to provide assistance to FRNSW in this important area of fire safety research. Our involvement in the research project was to pre-qualify the sensitivity of each of the 476 individual smoke alarms that were used in FRNSW's study. These initial sensitivity results were important to the research project as they provided confidence that each of the separate fire scenarios were assessed with alarms with known sensitivity parameters. The results of the sensitivity tests helped to ensure that no individual scenario was assessed with alarms that differed to any other scenario.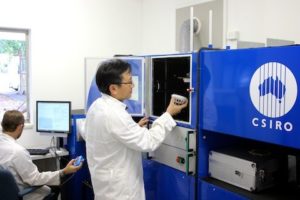 The research used four models of smoke alarm to cover different detection technologies. Each was subjected to two tests – the Directional dependence test (Clause 5.2 of AS 3786:2014), and the Initial sensitivity test (Clause 5.3 of AS 3786:2014).
Knowledge of the directional dependence and sensitivity of each model of smoke alarms permitted the FRNSW researchers to make informed decisions about the placement and orientation of the alarms during each fire scenario tested. This meant they were able to create a "level playing field" for each smoke alarm model with respect to the direction that the installed alarms were pointed relative to the fire source in the scenario.
These tests were conducted using CSIRO's Fire Systems Laboratory AS 3786/AS 7240 combined smoke/heat test tunnel, understood to be the only of its kind in Australia. The test tunnel is part of the suite of equipment that the CSIRO Infrastructure Technologies team operates to provide conformity evaluation services to local and international manufacturers and suppliers of fire detection and alarm system equipment. More information about the laboratory is available on CSIRO Infrastructure Technologies Fire Systems Laboratory website.
For more information about the report visit: Fire & Rescue NSW