Fire Safety Engineering
CSIRO Fire Engineering provides an independent and objective fire safety engineering consultancy for innovative solutions that satisfy or exceed the required level of fire safety, while satisfying the demand for cost efficiency and flexibility.
Capabilities
CSIRO provides fire engineering expertise and services to numerous building and infrastructure design projects.Our capabilities and experience cover:
• Fire strategy development
• Regulatory code compliance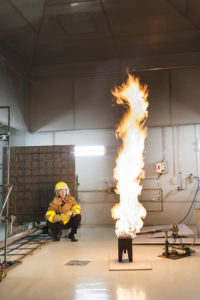 • Fire impact and smoke movement analysis
• Evacuation assessment, design and modelling
• Smoke ventilation design and assessment
• Hot smoke test for commissioning and verification
• Fire risk assessments
• Assessment of fire resistance of structural members
• Materials assessment
• Third-party peer review
• Design for fire safety of passenger trains; and
• Full-scale fire tests and experiments.
Custom Fire Engineering
We tailor our approach to the particular needs of each client and project, taking account of the nature of the physical phenomena and the applicability, accuracy, reliability and limitation of the different methods available.
Tools and Modelling
In undertaking our analyses, the design and analytical tools used include:
• Empirically based calculations – International Fire Engineering Guidelines, SFPE Handbook
• Zone modelling – CFAST and FIREWIND
• Computational fluid dynamics (CFD) modelling – PHOENICS and FDS
• Evacuation modelling – PATHFINDER, WAYOUT (FIREWIND) and (EVACNET)
• Tunnel ventilation design
Simulation (SES)
• Fire test facilities – CSIRO's unique fire test facilities are also applied to projects where the required project specific information is unavailable in literature. Our in-depth experience of fire safety engineering has been gained in numerous high-profile domestic and international projects, including commercial, residential and retail developments, industrial and manufacturing facilities, passenger trains, and transport infrastructure.
Our services are backed by CSIRO's fire research and testing capability, a world leader in fire science and technology.
Contact: Nathan White
Phone: +61 3 9545 2587
Email: Nathan.White@csiro.au