Building Facade Fire Safety
CSIRO provides a range of testing and consulting services to support industry and the community in the management of issues related to the external walls of buildings.
There is a wide varie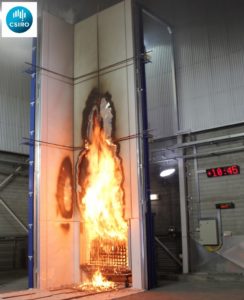 ty of building materials and systems for external walls in Australia. The range is increasing as new and innovative products come onto the market.
Changes in the materials and methods used to construct external walls has seen revisions to sections of to the National Construction Code (NCC) and publication of new test standards. CSIRO has kept abreast of these changes, and provides guidelines, testing services and consulting to support industry through these changes.
Testing services include combustibility testing, identification of aluminium composite materials, and full scale testing to the latest version of AS 5113. Fire engineering consulting is available for new construction along with evaluation and review of existing buildings.
Further information
Download the CSIRO guideline on fire safety of external wall.
Contact
If you would like to contact us about testing of ACP building products, please call 1300363 400 or email us at firesafety@csiro.au