Testing flexible pointing to AS 4046.8
A guide to testing with CSIRO
CSIRO offers a testing service for assessing roof tile flexible pointing in accordance with the method of the Australian Standard AS 4046.8:2015, and to the requirements of AS 2050 – Installation of roof tiles.

This guide aims to assist those who need to demonstrate compliance of their product with the current Standards. It will provide you with basic information to help you comply with ours and the Standard's requirements for testing your flexible pointing.
Background
CSIRO has been involved with tile roofing in Australia for many years, participating with industry, the ABCB, and Standards Australia, to develop suitable methods for benchmarking tile roof products.
One such benchmark is determining the suitability for use of flexible pointing as an adhesive mechanical fastener for ridge tiles.
The test method given in the current Standard was co-developed by CSIRO.
General
CSIRO originally developed the test apparatus described in the Standard, and has made it available for public testing, for a fee.
The test fee is based on successful testing of your flexible pointing. If your product passes the test, you will receive a comprehensive report, detailing the relevant aspects of testing, as required by the Standard.
Should your flexible pointing not pass, then a reduced fee will be charged.
The test
AS 4046.8 sets out the method for testing flexible pointing to assess its suitability for use as an adhesive mechanical fastener after conditioning by prolonged water saturation.
The test apparatus consists of a steel framed roof segment, emulating a portion of a trussed framed type roof. The test roof segment is 2.4 metres in length, set at an 18 degrees pitch, allowing for two rows of tiles either side of the ridge.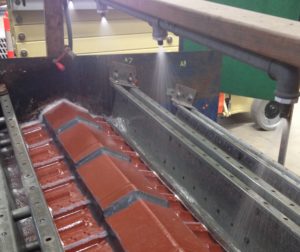 Each roof tile is fixed to a timber batten with a screw through the tile head. Ridge tiles are bedded with a mortar mix of a sand to cement ratio of 4:1, 50 mm wide by 25 mm in height (a jig is recommended), as per the Standard.
Note, the Standard prohibits the inclusion of bedding additives in the mortar mix. Doing so will void the test.
The flexible pointing must be installed in accordance to the product's directions for installation, as shown on the product container.
Once installation has been completed, the test roof specimen will then air cure for no less than 28 days. After this period, water conditioning will be applied for 72 hours, until the start of the cyclic fatigue loading sequence.
The test roof is subjected to a series of stages of increasing negative (suction) pressures. This is intended to mimic the airflow over a roof, generated by a gusting wind experienced during a storm. The pressure is applied cyclically every few seconds, occurring 10,200 times, until the last stage's single cycle of 100% pressure – held for one minute.
The test pressure is determined by you, the test sponsor. It is the ultimate limit state (ULS) design wind pressure, as calculated from AS 4055-2012 – Wind loads for housing. Typically, most test sponsors have chosen wind class 'C3' (cyclonic), or -7.39 kPa, for assessment. Very few have succeeded under 'C4' (-9.98 kPa).
Before proceeding with the test, it is recommended that you first obtain a copy of the Standard to adequately understand its requirements. This guide is for information only, and in no way should be considered comprehensive.
Changes to AS 4046.8 in 2015
In the latest revision of AS 4046.8, which occurred in 2015, the Standard now places a time limit on the currency of the test.
The Standard now states that flexible pointing products be retested after a maximum period of 3 years.
What you need to provide
You (the Test Sponsor) will need to provide all materials, tools, and labour to install the test roof segment.
To ensure assessment against AS 4046.8 is conducted fairly between submitted flexible pointing products, CSIRO applies certain conditions to limit undue influence on the performance of the flexible pointing.
The following materials and information are required to be supplied:
Flexible pointing (unopened)
Description of the adhesive fastener, manufacturer's name, batch number, & date of manufacture
Product installation directions
Timber roofing battens
Screws (for fixing tiles to battens)
Sand (unopened bag, complying to the relevant Standard/s)
Cement (unopened bag, complying to the relevant Standard/s)
New, unused, full glazed terracotta roof & ridge tiles (not embossed edge).
The terracotta tiles shall be fully ceramic glazed – not semi/partial glazed, nor salt glazed tiles. The tile profile shall be a Marseille pattern, sourced from either Boral or CSR, in 'Siena Red' (Boral) or 'Florence Red' (CSR) colours only. Matching ridge tiles shall be used.
The quantity of tiles required is: 44x roof tiles; and, 6x ridge tiles. Spare tiles should be included.
What we require from you
Before we can carry out a test we will need your details, or those of the entity that you represent, to establish a test contract (our Test Agreement).
The following details are required by us:
Your name
Your title/position
Your company/registered business name (if applicable)
ABN / ACN
Registered business address
Your contact details (email/phone)
Once we have this information, we will then forward our Test Agreement to you for signing. After we have received your signed Test Agreement will testing commence.
CSIRO
We reserve the right to decline or discontinue testing if we consider that the test sponsor has not adhered to our conditions, and/or is not in compliance with the intent and requirements of the Standard(s).
Last edited by Alex Tang on November 25, 2016