Building Facades
Wall & cladding systems testing
General information on gaining acceptance
The following information is provided for those who are developing or importing a wall or cladding system for use in Australia. It outlines some of the considerations for demonstrating compliance with the National Construction Code (NCC) and Standards.
Introduction
Every year CSIRO receives many enquiries from individuals and companies seeking assistance for compliance assessment of new wall or cladding systems. They include builders, architects, entrepreneurs, and companies in the building products industry.
Some of these enquiries show little understanding of the necessary compliance requirements that must first be satisfied before a system gains acceptance.
This document has been written with that fact in mind. It introduces the reader to some of the aspects to be considered.
The information offered here does not represent professional advice. We recommend that you obtain the guidance of an engineer or other building professional to assist in the process.
CSIRO's role
The Commonwealth Experimental Building Station (CEBS) was established in 1944 at North Ryde in Sydney by the Australian Government to deal with the post-war housing shortage and improve the quality of housing construction.
Later, it was renamed as the National Building & Technology Centre in the mid eighties, and then absorbed soon after into CSIRO to become the Division of Building, Construction & Engineering, where it was involved in the development of the Building Code of Australia (BCA), and its initial publication in 1988.
Today CSIRO continues its involvement with the built environment by providing a range of testing services to assist individuals and industry. While CSIRO can provide the means to demonstrate your system's performance through testing, you will still need to first determine the parameters and criteria against which your wall or cladding system will be assessed. Hence, our advice to seek professional guidance.
Your system
Wall or cladding systems derive themselves from a range of modern materials, or composites thereof. One thing they all share is the need to prove their performance for the intended application.
The NCC & Standards
The National Construction Code is the regulatory document adopted by all states and territories, stipulating a uniform set of technical provisions for the design and construction of buildings and other structures throughout Australia.
In general, all construction methods must satisfy the requirements of the NCC, which provides details of acceptable practices for traditional and commonly used systems. Alternative construction methods using innovative materials, designs and systems are not covered by the NCC.
However, non-traditional and innovative systems can still satisfy the requirements of the NCC by complying with the 'Performance Provisions', which cover areas including, but not limited to: structural performance; damp and weatherproofing; fire safety; and, energy efficiency. There may also be additional requirements for certain systems in specific areas (e.g. performance in high wind areas such as Darwin).
To demonstrate compliance, the provisions may refer to Australian Standards which prescribe a means for satisfying the provisions. The scope of a Standard can include: materials; design; installation; and, test methods. A Standard can also be singular in purpose, such as the AS/NZS 1170 series, which is essentially a structural design manual.
In some instances the NCC may not reference a particular Standard, or there may be no relevant Standard in existence. However, a related Standard may provide a means to satisfy the provisions.
Following is a list of Australian Standards that may be relevant to demonstrating compliance of your system.
AS/NZS 1170 – Structural design actions
AS 4055 – Wind loads for housing
AS 4040 – Methods of testing sheet roof and wall cladding
AS 1562 – Design and installation of sheet roof and wall cladding
AS 4256 – Plastic roof and wall cladding materials
AS/NZS 4284 – Testing of building facades
Overseas Standards may also be applicable, for example, the American ASTM E514 – 'Standard Test Method for Water Penetration and Leakage through Masonry'.
Weatherproofing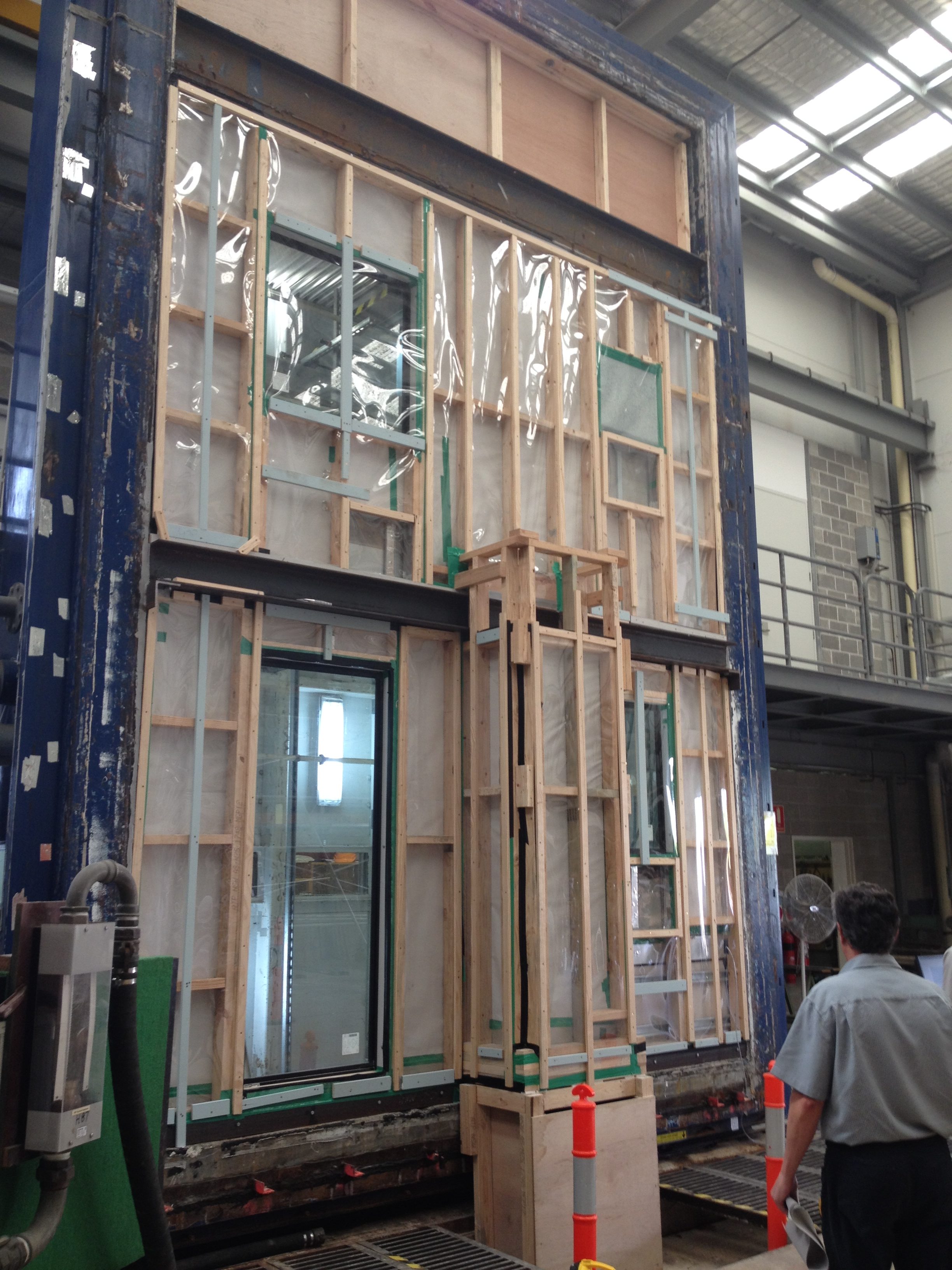 In 2015, the NCC introduced Verification Methods FV1 and V2.2.1 to evaluate the weatherproofing performance of direct-fix cladding, cavity and unique wall systems. The methods provide a means to verify compliance with the relevant NCC Performance Requirements of FP1.4 and P2.2.2 for water penetration in an external wall.
Tests
Depending on the type of system and its in-service application, you may be required to demonstrate its performance characteristics for, but not limited to, one or more of the following conditions:
wind loads (cyclonic/non-cyclonic)
imposed and permanent loads
seismic
differential movement
creep and shrinkage
thermal effects
resistance to soft-body impact
resistance to impact from windborne debris
damp and weatherproofing
fire safety
thermal insulation
These can be categorised into structural, weather, fire, and energy efficiency.
Before undertaking a test, you will need to specify the test parameters. These will usually depend upon the location, building class (use), or a
specific rating to be attained. Conversely, a Standard may specify a performance requirement, which may be only a minimum, allowing you to elect to test to a higher value to reflect your system's superior properties.
Test specimen configuration
The configuration of your system for testing should include all pertinent details for the assessment. As an example, to determine watertightness performance on a cladding system, the specimen should include such details as: horizontal and vertical joints; internal and external corners; window and/or door reveal details; and, bottom plate to slab detail. Alternatively, those features or locations likely to permit water penetration.
Structural capacity should be demonstrated by constructing the specimen to the minimum specifications permitted by the system's technical manual or design. This could mean the maximum spacing for fasteners, or least sub-frame supports.
Tested to this configuration, it would follow that any additional support or fixing should result in better performance. However, a system that is supplied in a range of sizes, thicknesses, spans, or aspect ratios, may need to be tested separately.
The specimen must be of a sufficient size to allow the system's elements to exhibit typical deflections, boundary conditions and other behaviour.
Will it satisfy?
Before committing yourself, ensure that the test results are what is required by the end user or approving authority. This could be the project builder or consulting engineer, a project specification, or local or state government body.
Our test facilities
Our North Ryde labs are fully NATA accredited. We operate a large pressure chamber for structural and weather-tightness, air cannon and sand bag for impact tests, and a range of furn
aces for fire and material combustibility testing. We can also provide other testing services on request.
You (the Test Sponsor) will need to provide all materials, tools, and labour to install your test specimen(s).
Testing with CSIRO
Before we can carry out a test, we will need your details, or those of the entity that you represent, so to establish a test contract (our Test Agreement).
The following details are required by us:
Your name
Your title/position
Your company/registered business name (if applicable)
ABN / ACN
Registered business address
Your contact details (email/phone)
Once we have this information, we will then forward our Agreement to you for signing. When we are in receipt of your signed Agreement, testing will then commence.
Disclaimer
The information contained herein is not intended to represent professional advice and may not be complete. It is provided simply to make you aware of the breadth of considerations that may be required in seeking approval/acceptance of a new building system.
References contained herein may change without notice. You should seek professional advice, and check for compliance with the relevant statutory bodies.
Last edited by Alex Tang on November 25, 2016