Sensor Fusion
Sensor Fusion (Robot Eyes)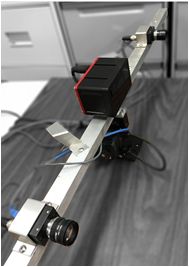 Our innovation fuses an optical sensor with a Lidar sensor to produce robust, high resolution real-time video at a low cost. Without being fused, the sensors are not suitable for real-time 3D imaging:
Laser ranging systems suffer from low resolution and poor accuracy
Optical sensors provide high resolution but require significant processing and are not robust in areas that possess poor texture
Our low cost fused sensor overcomes these restrictions to provide accurate, complete and dependable data in real-time. The sensor is applicable to a wide range of application areas such as robotics, mining and agriculture to name a few. We are currently seeking a commercialisation partner for the technology. For further information, please contact: Gregoire Krahenbuhl.