2020-2021 satellite tracked birds
We fitted trackers to a total of 52 birds during the 2020-2021 breeding season (October 2020- February 2021). Straw-necked ibis adults and juveniles, royal spoonbill juveniles and a musk duck were fitted with trackers at Gayini Nimmie-Caira (NSW). An adult Australian white ibis and juvenile royal spoonbills were fitted with trackers at Millewa Forest (NSW).
Maps of the movements of waterbirds being tracked via satellite. An image of the bird is presented where available.
MIM
Female adult/sub-adult straw-necked ibis
Location tracked from: Bala Rookery (Eulimbah Swamp), Gayini NSW
Date tracked from: 6/12/20- 30/5/21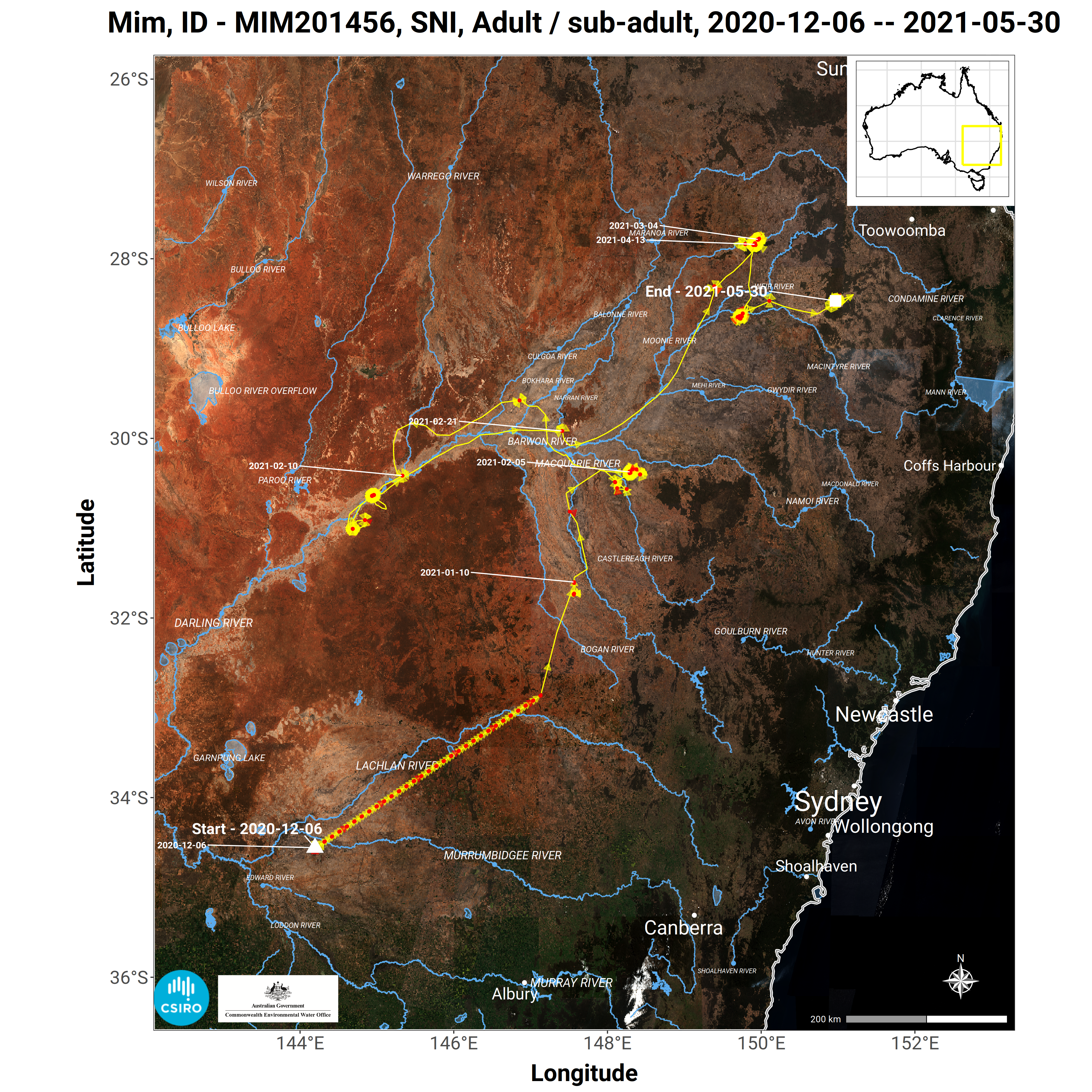 ♦♦♦
REX
Male juvenile straw-necked ibis
Location tracked from: Bala Rookery (Eulimbah Swamp), Gayini NSW
Date tracked from: 16/1/21- 1/2/21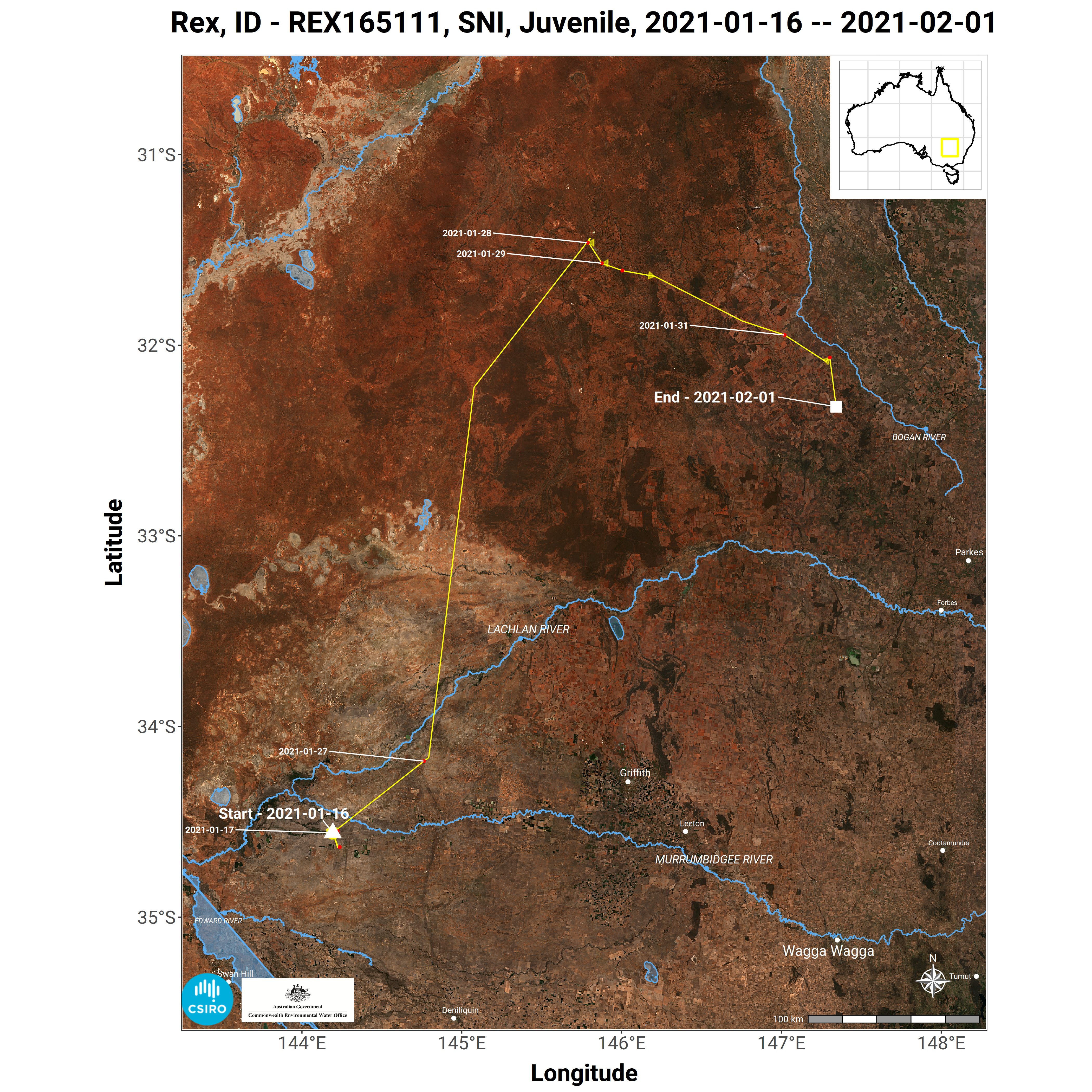 ♦♦♦

MAVERICK
Male musk duck
Location tracked from: Gayini NSW
Date tracked from: 12/10/20- 1/1/21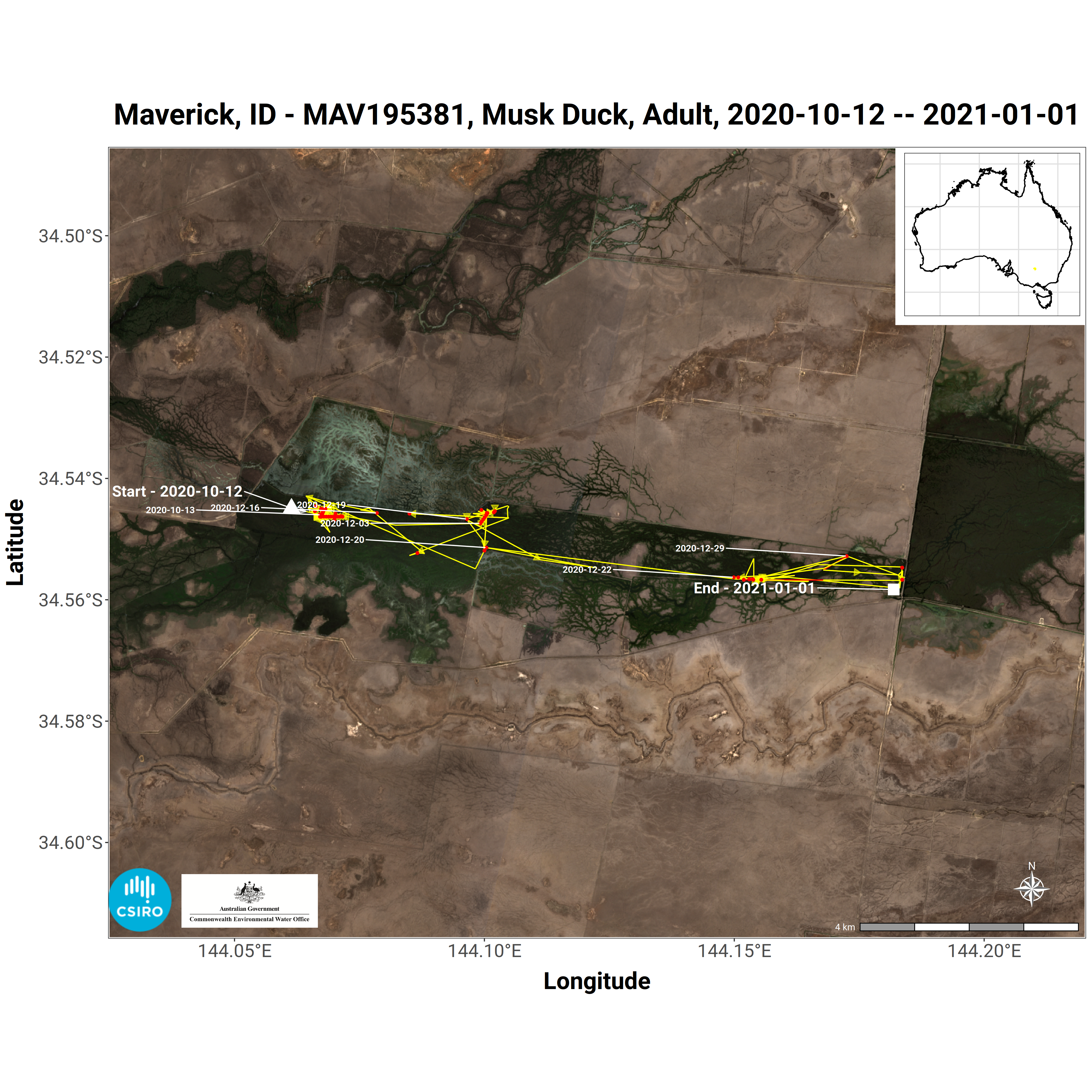 ♦♦♦

ALI
Juvenile royal spoonbill
Location tracked from: Bala Rookery (Eulimbah Swamp), Gayini NSW
Date tracked from: 18/1/21- 13/4/21

♦♦♦
NADJIRR
Juvenile royal spoonbill
Location tracked from: Reed Beds Swamp, Millewa Forest, NSW
Date tracked from: 16/2/21- 18/4/21

♦♦♦
WARWAEGAE
Male juvenile Australian white ibis
Location tracked from: Bala Rookery (Eulimbah Swamp), Gayini NSW
Date tracked from: 15/1/21- 31/1/21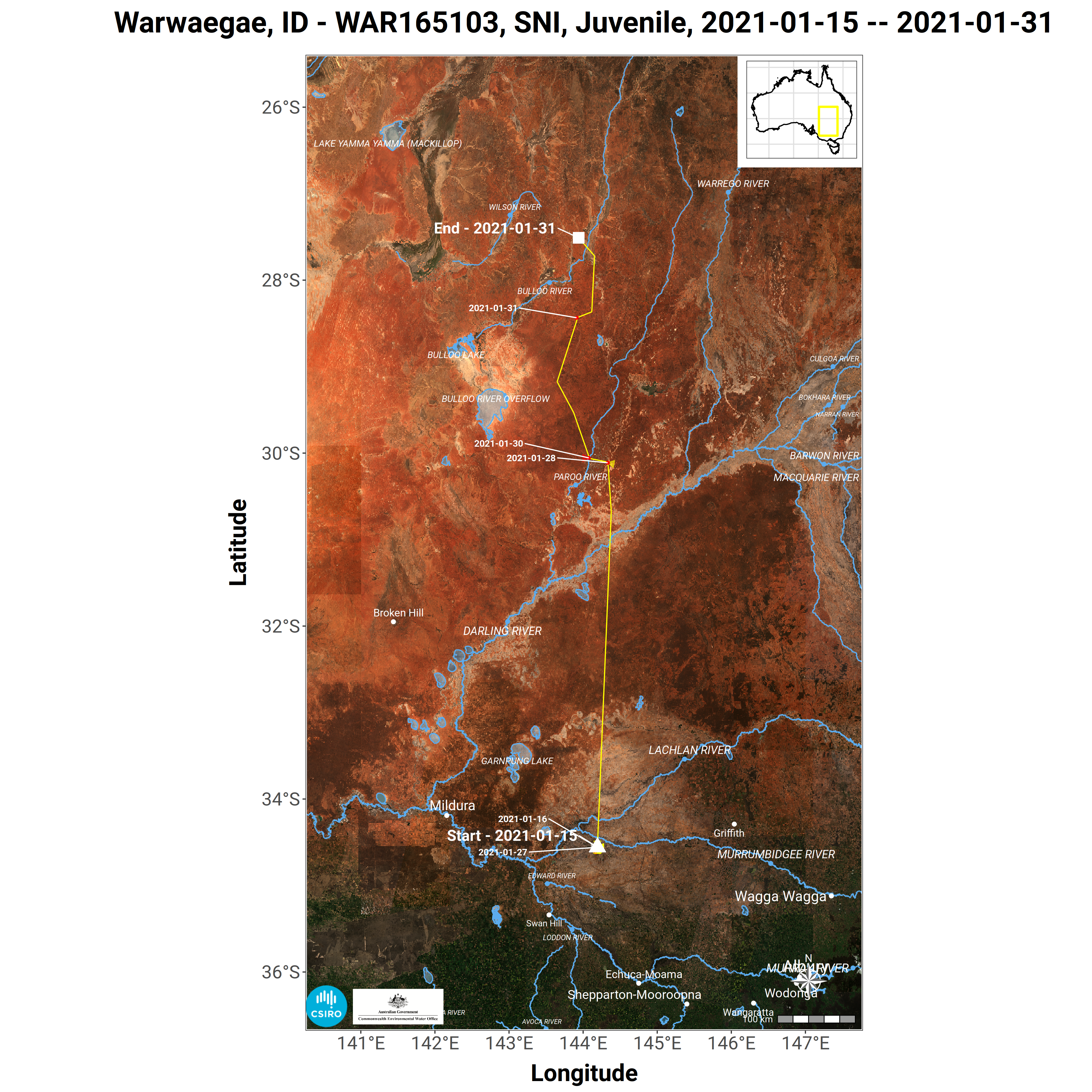 ♦♦♦

OSCAR
Female adult Australian white ibis
Location tracked from: Gayini NSW
Date tracked from: 7/12/20- 27/2/23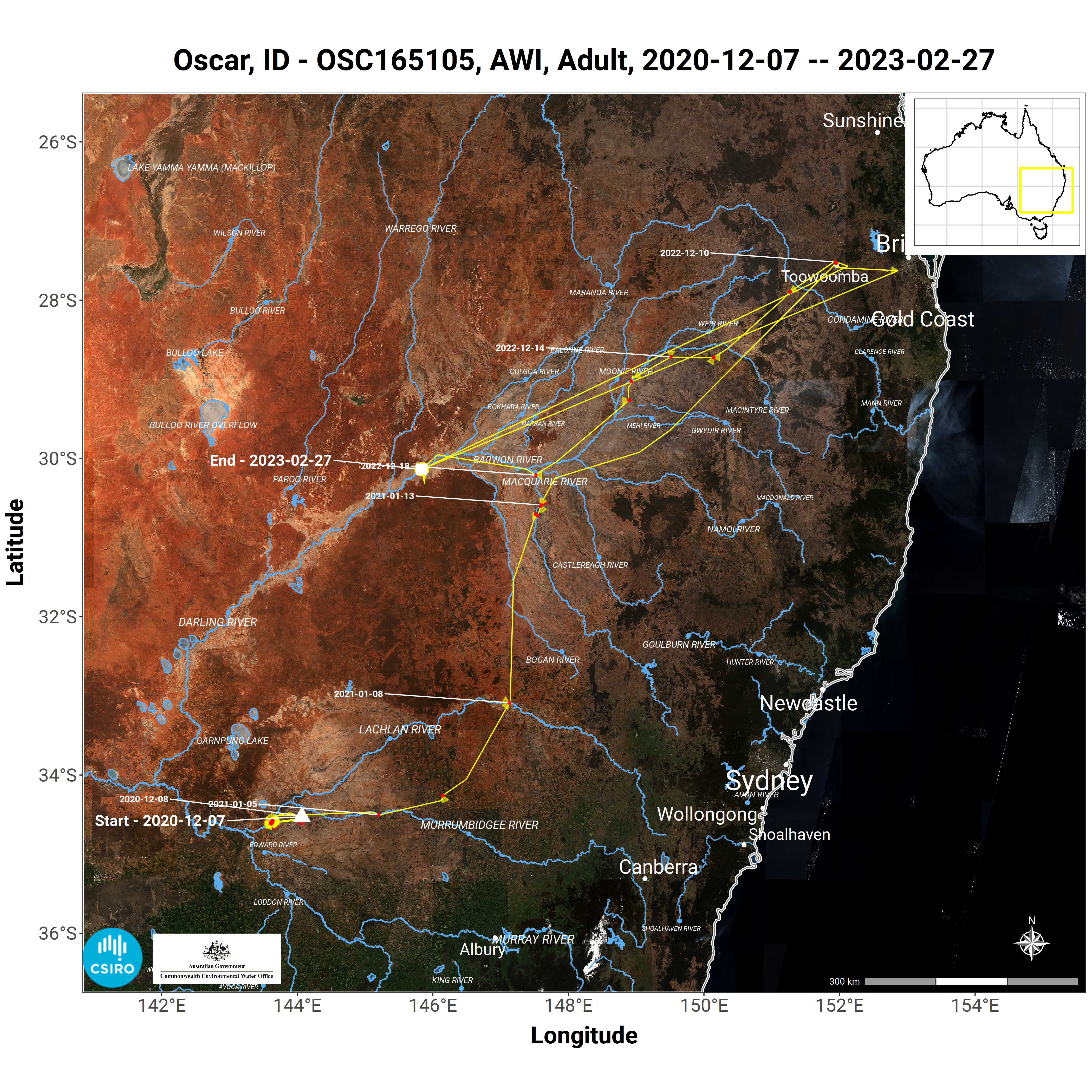 ♦♦♦
KIARA
Female adult/sub-adult straw-necked ibis
Location tracked from: Bala Rookery (Eulimbah Swamp), Gayini NSW
Date tracked from: 4/12/20- 30/6/21

♦♦♦
BAYIL
Female adult/sub-adult straw-necked ibis
Location tracked from: Bala Rookery (Eulimbah Swamp), Gayini NSW
Date tracked from: 5/12/20- 24/2/21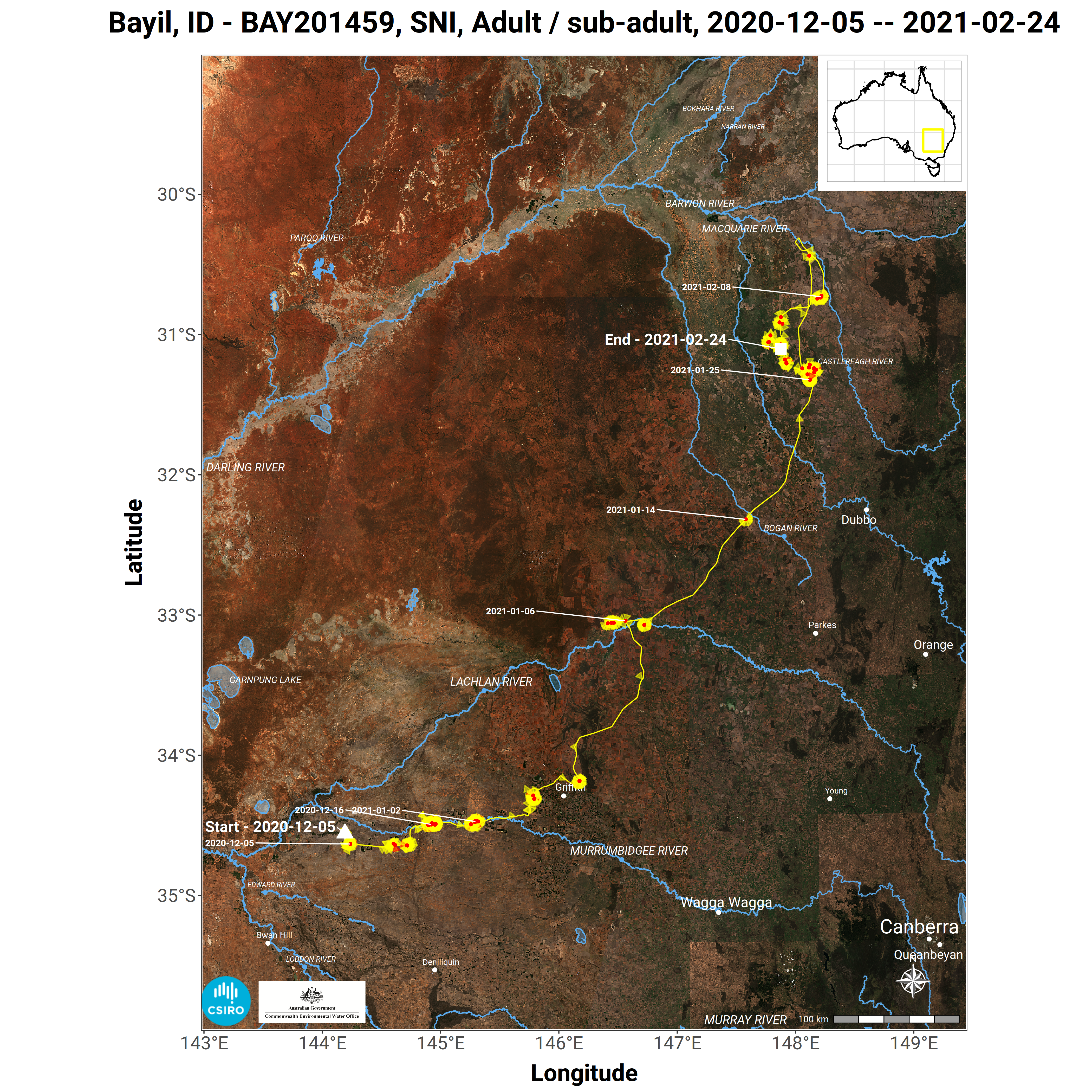 ♦♦♦
BRODIE
Juvenile royal spoonbill
Location tracked from: Bala Rookery (Eulimbah Swamp), Gayini NSW
Date tracked from: 20/1/21- 29/4/21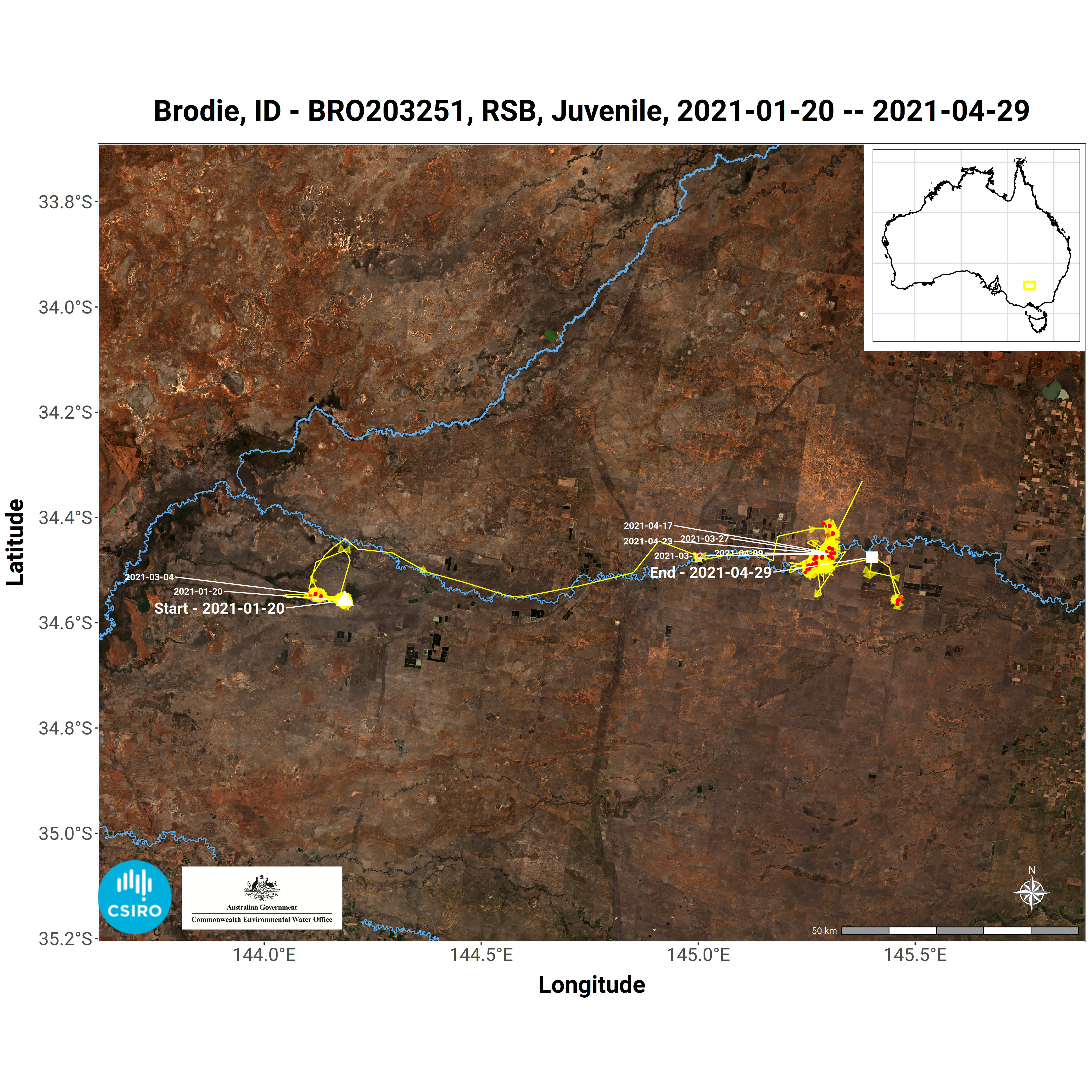 ♦♦♦

MARSHIE
Juvenile royal spoonbill
Location tracked from: Bala Rookery (Eulimbah Swamp), Gayini NSW
Date tracked from: 14/1/21- 26/7/22

♦♦♦
JIMMY
Juvenile royal spoonbill
Location tracked from: Bala Rookery (Eulimbah Swamp), Gayini NSW
Date tracked from: 20/01/2021- 3/9/21

♦♦♦

YANGA
Adult female straw-necked ibis
Location tracked from: Bala Rookery (Eulimbah Swamp), Gayini NSW
Date tracked from: 16/01/2021- 14/5/21

♦♦♦
GAYINI
Adult female straw-necked ibis
Location tracked from: Bala Rookery (Eulimbah Swamp), Gayini NSW
Date tracked from: 5/12/20- 11/6/21

♦♦♦
ZAZU
Adult male straw-necked ibis
Location tracked from: Bala Rookery (Eulimbah Swamp), Gayini NSW
Date tracked from: 7/12/20- 28/10/21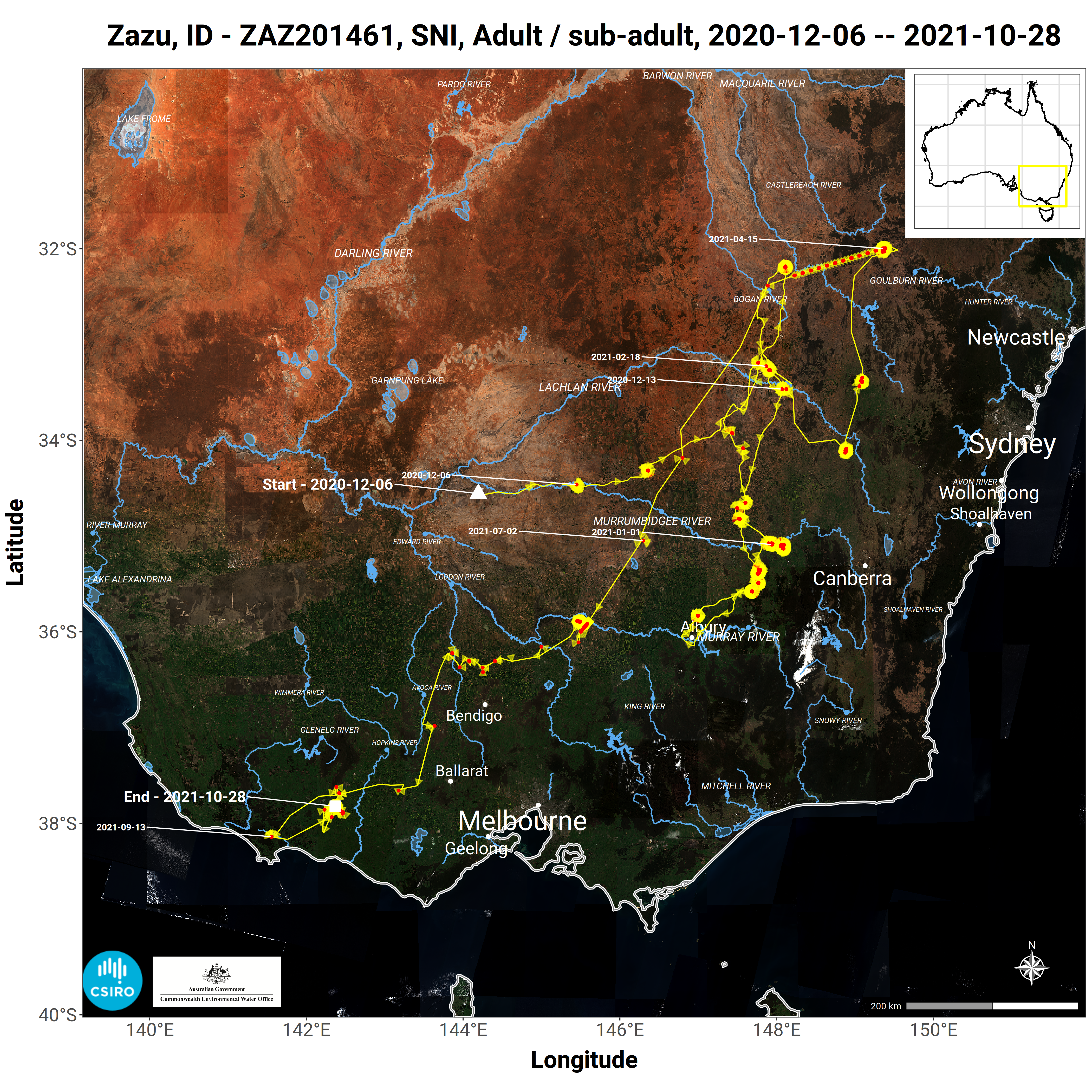 ♦♦♦

ROSIE
Adult Australian white ibis
Location tracked from: Reed Beds Swamp, Millewa Forest, NSW
Date tracked from: 19/11/20- 23/4/21

♦♦♦
BOWIE
Juvenile royal spoonbill
Location tracked from: Bala Rookery (Eulimbah Swamp), Gayini NSW
Date tracked from: 15/1/21- 23/6/21

♦♦♦
TAYLOR
Juvenile straw-necked ibis
Location tracked from: Bala Rookery (Eulimbah Swamp), Gayini NSW
Date tracked from: 21/1/21- 1/12/21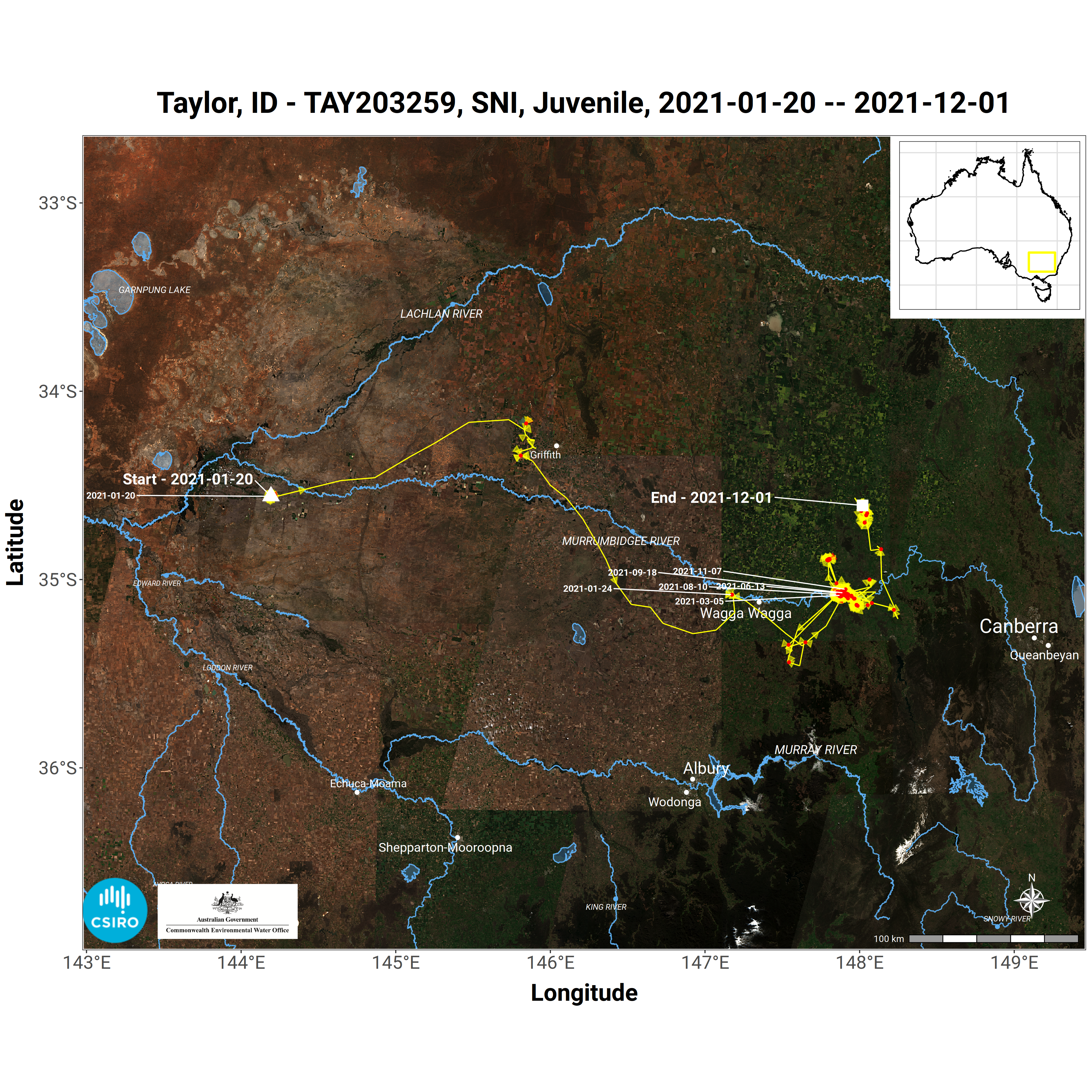 ♦♦♦

BIYULA
Juvenile royal spoonbill
Location tracked from: Reed Beds Swamp, Millewa Forest, NSW
Date tracked from: 17/2/21- 11/7/21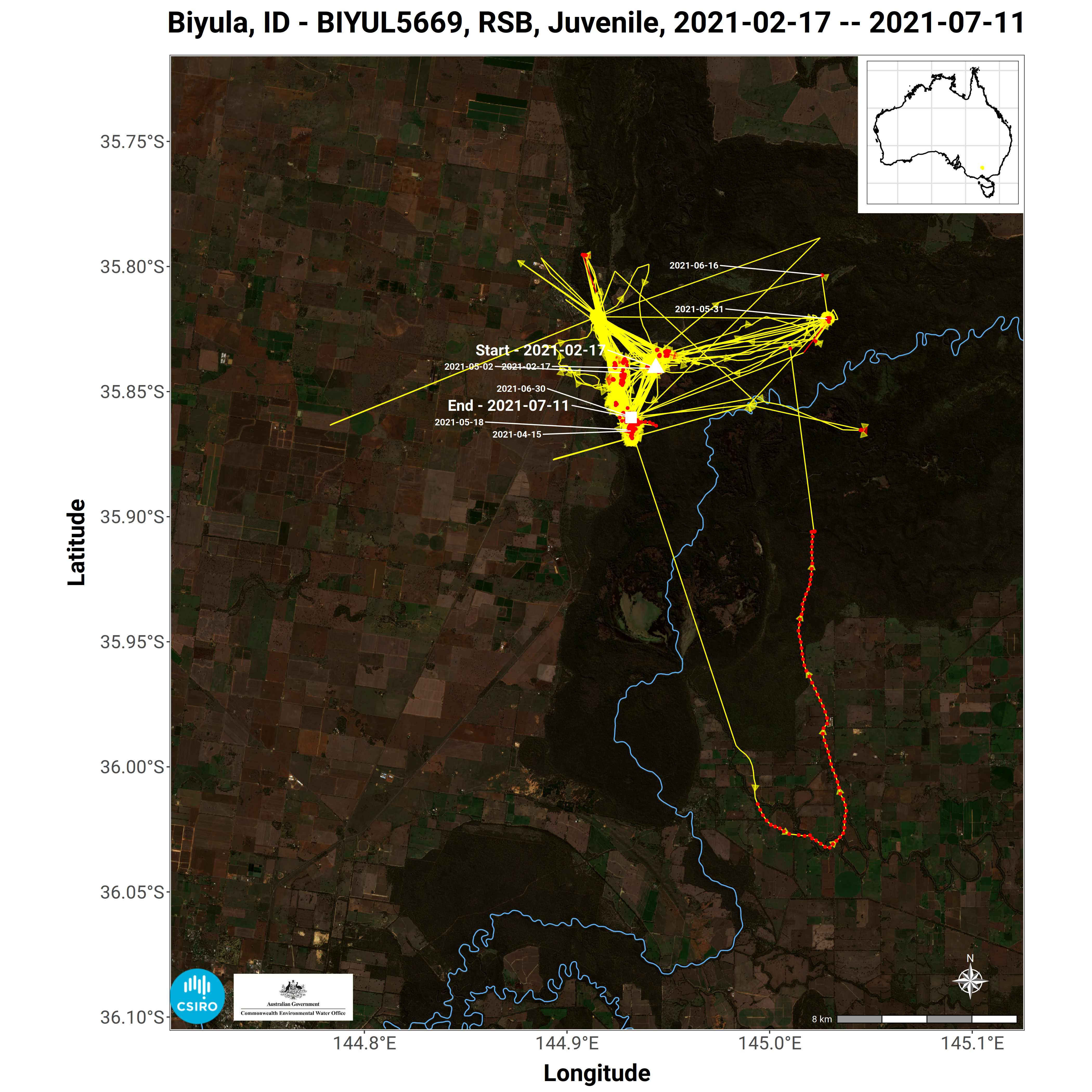 ♦♦♦

WANAB
Adult/sub-adult female straw-necked ibis
Location tracked from: Bala Rookery (Eulimbah Swamp), Gayini NSW
Date tracked from: 9/12/20- 22/1/21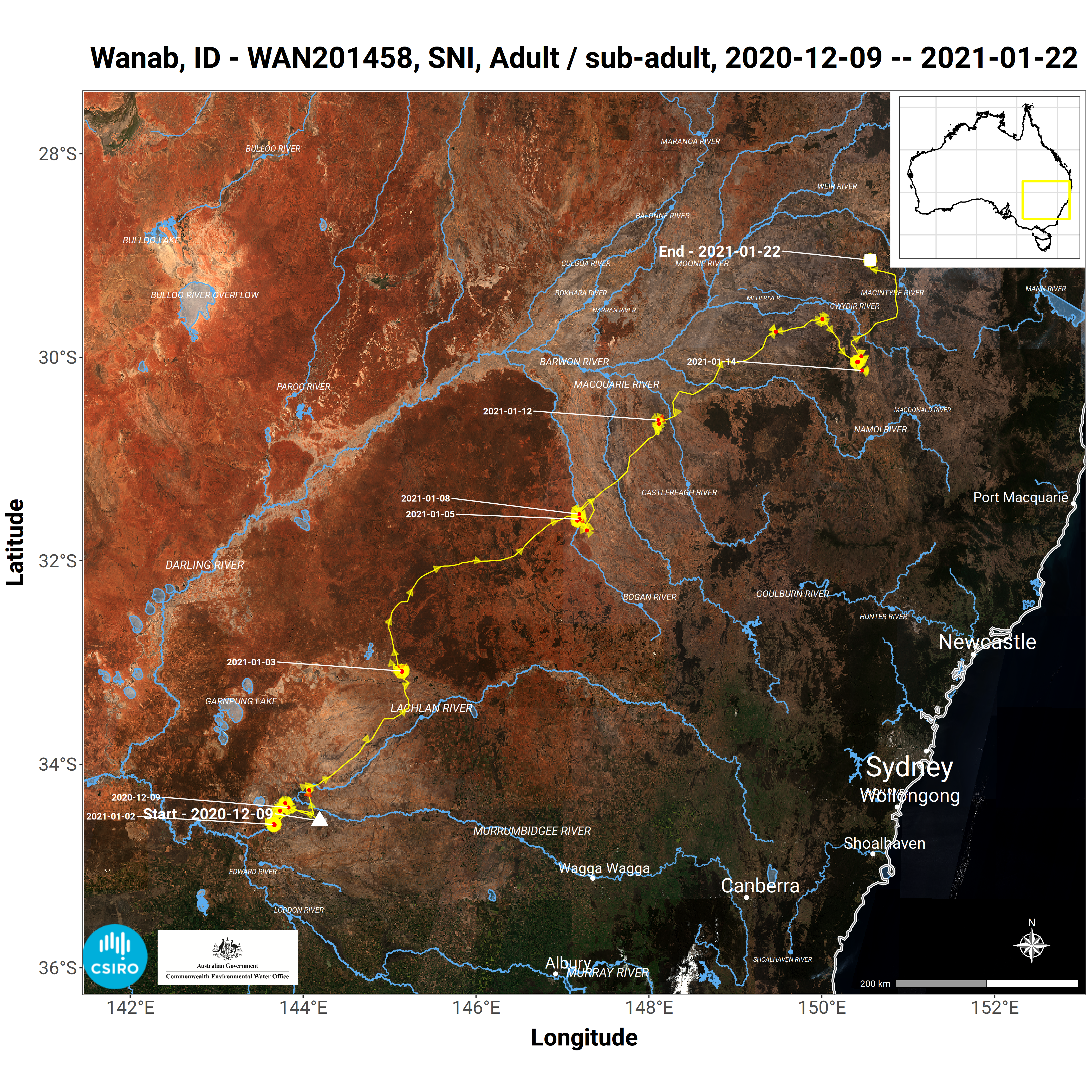 ♦♦♦

WALLY THE SECOND
Adult/sub-adult male straw-necked ibis
Location tracked from: Bala Rookery (Eulimbah Swamp), Gayini NSW
Date tracked from: 5/12/20- 31/3/21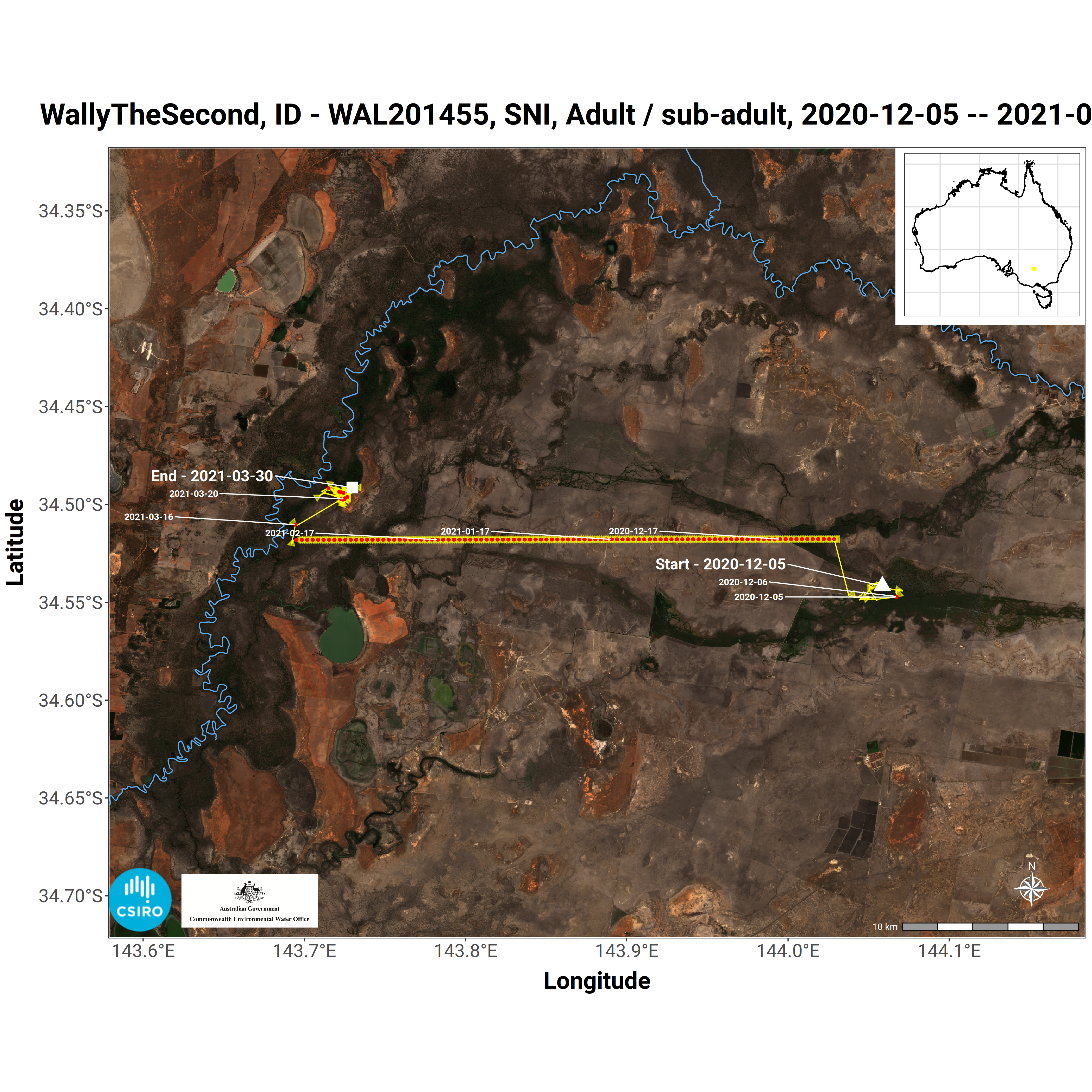 ♦♦♦

EULIMBAH
Adult male straw-necked ibis
Location tracked from: Bala Rookery (Eulimbah Swamp), Gayini NSW
Date tracked from: 5/12/20- 8/1/21