Exmouth School gets some 'STEAM'!
Every August the Ningaloo Outlook Team visit the Exmouth School as part of National Science week. From learning about remotely operated vehicles in the local school pool, to understanding how our litter ends up in our oceans and what we can do to prevent it, it's never a dull week!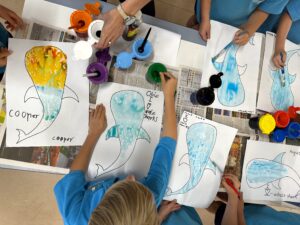 This year students were in for a particular treat with Dr Suzie Starfish (aka. Dr Sue Pillans) taking up residence in the Exmouth Science room so students could dive into the science and technology used by marine scientists studying the Ningaloo Reef. Dr Suzie Starfish is a marine scientist, artist and children's author/illustrator who loves using art and science to communicate science stories.
Dr Suzie Starfish also shared the results of the Ningaloo Outlook team's research. This included how the CSIRO's long-term reef surveys and tagging of marine megafauna is increasing our understanding of the Ningaloo Reef to ensure the sustainable management of the Ningaloo Coast World Heritage Area.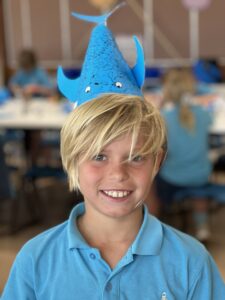 Dr Suzie Starfish used creative thinking activities in the classroom to inspire the imagination of students and generate understanding about the importance of using science and technology to help look after and protect Ningaloo Reef. From developing Reef artwork with Year 2 students using their own handprints, to creating turtle heARTs the days were full of activity. Year 4 students learnt about tagging along with the biggest shark in the sea, the whale shark, and made Whale shark hats whilst Year 5/6 students had an opportunity to develop their Reef storytelling skills and created their own front cover artworks for their Ningaloo reef stories.
"It was an absolute joy to be back at Exmouth School as Dr Suzie Starfish. Using art and science is a powerful way to engage the hearts and minds of students, and I just love making science creative, visual and fun!".
All of the classes were supported by the amazing efforts of Exmouth Science Teacher Hellen Kneale, with support from primary school teacher Louise Bonciani.
Thanks so much Dr Suzie Starfish!