Community Presentation at Exmouth – Date announced
Fancy hearing first hand what our researchers have been up to at Ningaloo over the last year?
The Ningaloo Outlook Team will be at the Ningaloo Centre on the 21st October 2019 (6:00 – 7:30 pm) to do just that.
Researchers from the team will present their latest research findings from the deep reefs, shallow reefs; and tagging and tracking research themes.
The presentation will be followed by light refreshments and an opportunity to meet and talk with our research scientists.
The agenda for the evening can be found below: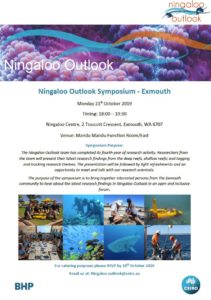 RSVP to ningaloo.outlook@csiro.au before the 18th October to secure a place!