Remote Sensing and Image Integration
Our aspiration is to fundamentally change reporting of the earth's land cover, particularly native vegetation, land degradation, and built environments.
Global demand for environmental reporting and auditing is spawning massive-scale mapping and monitoring projects producing derived information from multiple large datasets. As accuracy increases and sources of error are quantified, the information has increasing value for natural resource management, environmental monitoring and modelling, and public communication. Increasingly, changes in the terrestrial environment resulting from, or contributing to, climate change are of scientific interest.
We consider that crucial contributions are to be made by advancing the quality of information derived from remotely sensed data by using advancements in computational and statistical methods for information extraction from multiple resolution remotely sensed and other data. These advances, combined with well-established relationships with bodies involved with environmental measurement and monitoring, provide a strong basis for growth, scientific development and impact in this area.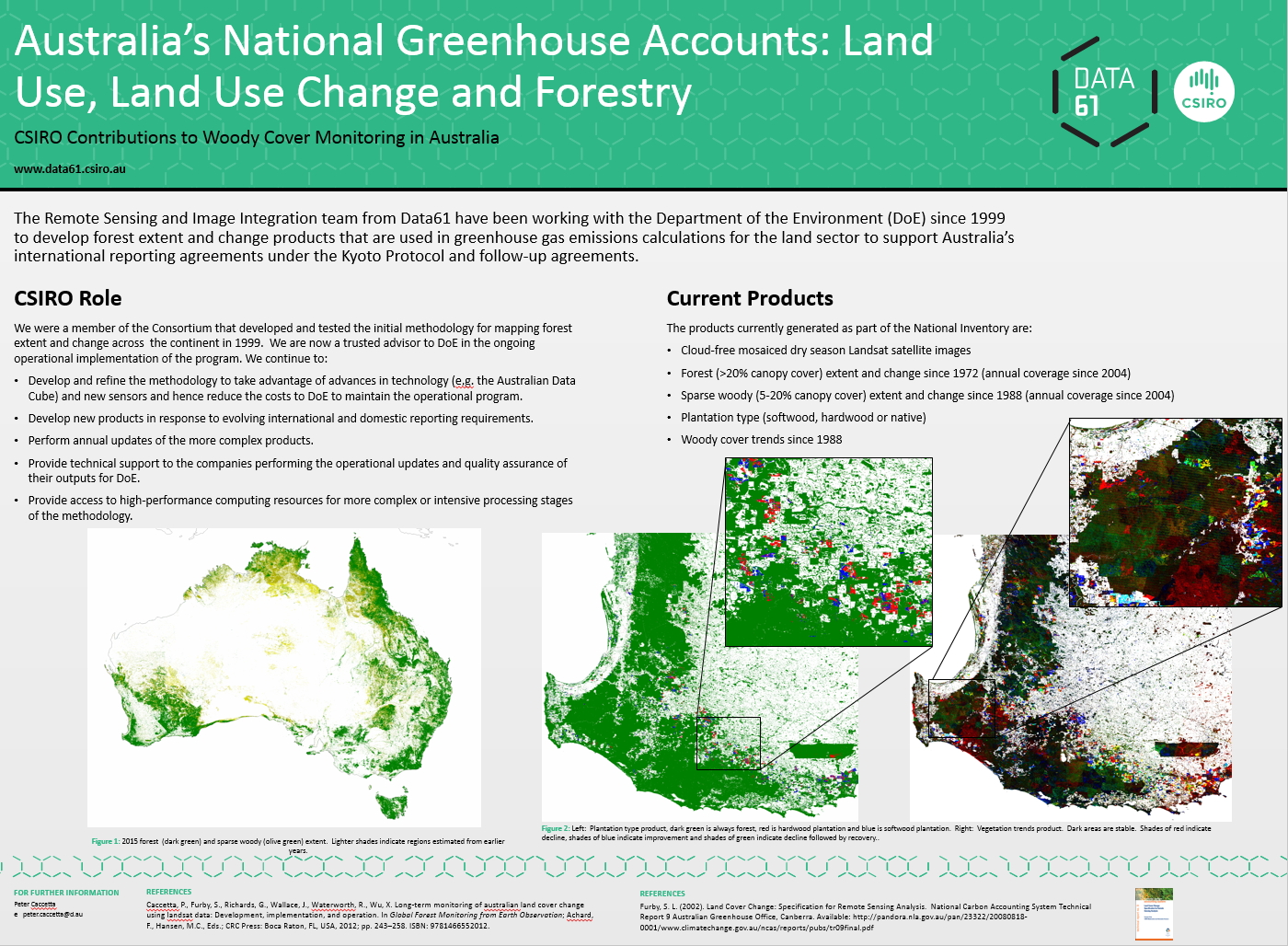 The problems we are trying to solve
This team have been previously (2004, 2008) recognised through awards and partnerships as a world leader in developing and applying tools for extracting information from long-term sequences of remotely sensed data to enable the assessment and management of national and regional environmental issues. In the last two decades, the team has made significant contributions to Australia's ability to monitor and report on environmental problems and to plan and implement solutions. Motivated by a vision of remote sensing as a key technology in addressing national environmental problems, the team has developed technologies for transforming large archives of data to environmentally-relevant information; developed technology applications to address specific environmental issues; created operational production systems which allow the methods to be "routinely" applied; and secured adoption of the use of the technologies.
Australia has a large land mass, sparse population and a number of environmental challenges of which the outcomes are dependent on management decisions and policy frameworks. Identifying and quantifying these challenges is key to effective policy and management responses. The team have developed a rigorous scientific approach to the analysis of aerial and satellite data, and their integration with other spatial data, that render them applicable to a range of policy questions, such as where is landscape change occurring; what is the rate of change, and what are the potential impacts of change.
Australians gain enormous amenity from our urban coastlines with recreational (swimming, fishing, boating etc.) and commercial activities drawing huge numbers of visitors annually. These activities co-exist with development activities. Management strategies are vital to ensure the sustained usability of these assets, so the team has devoted resources to examining the technical challenges of terrestrial and also coastal marine remote sensing technology, such as bathymetric LiDAR, multibeam echosounders and deep-sea AUV cameras.
Some key words include:
Multi-angular measurements and models
Statistical pattern recognition (unmixing, discrimination and classification)
Large data issues (algorithms on large datasets)
Data Integration (eg. joint models for classification)
Earth surface processes and landforms (e.g. extraction of information from digital elevation data)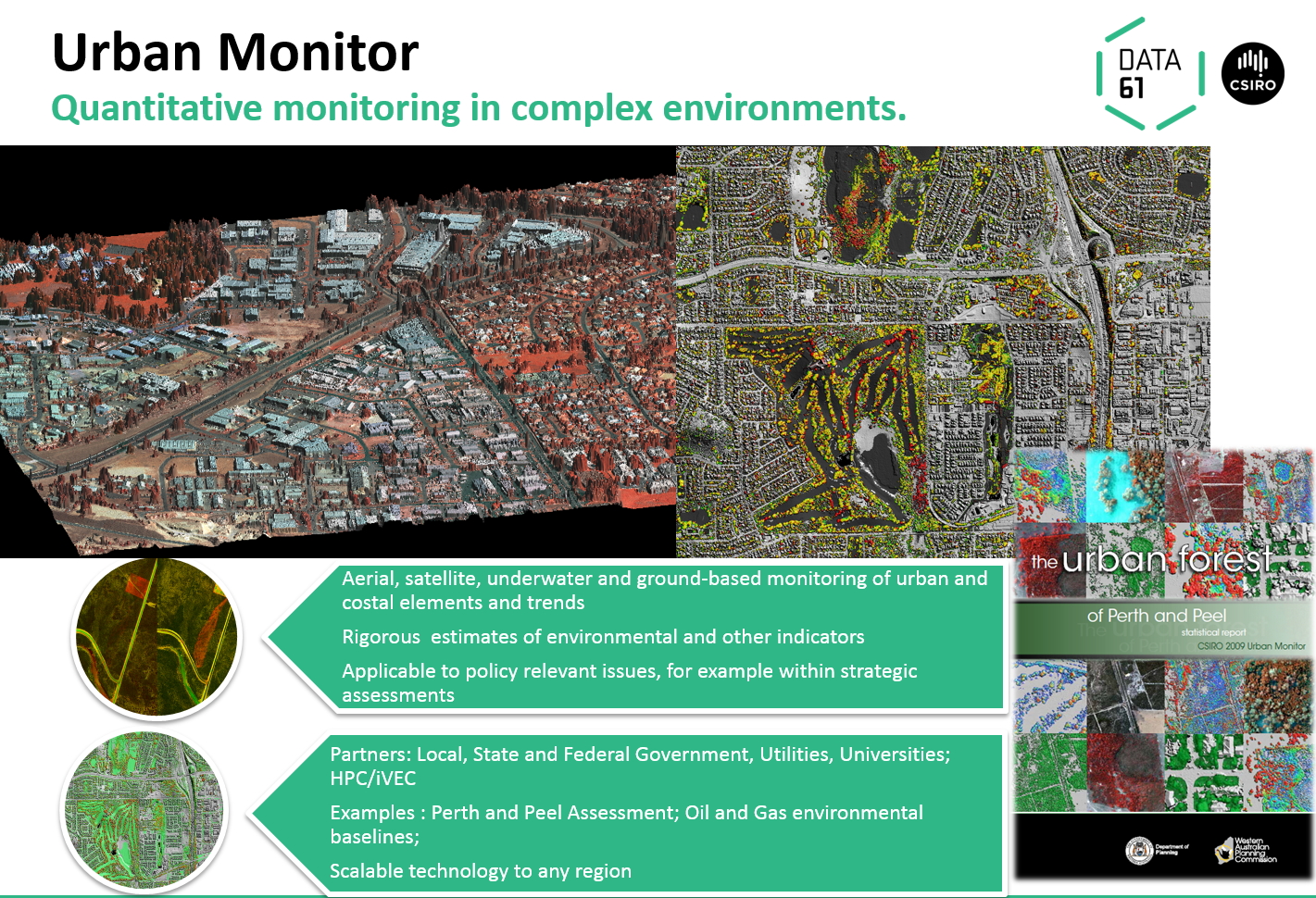 Project highlights
Team members
Peter Caccetta (Team Leader)
Joanne Chia
Simon Collings
Drew Devereux
Foivos Diakogiannis
Suzanne Furby
Eric Lehmann
Tony Traylen
Xiaoliang Wu
Zheng-shu Zhou
Adrian Baddeley (Adjunct Science Fellow)
Mark Berman (Visiting Scientist)
Norm Campbell (Honorary Fellow)
Kass Hingee (PhD Student)
Contact
Dr Peter Caccetta
Team Leader, Remote Sensing and Image Integration
CSIRO Data61
Leeuwin Centre, 65 Brockway Road, Floreat, WA, Australia
Phone: +61 8 9333 6188
Email: Peter.Caccetta@csiro.au