Wrap-up from AIM17: Jodie Fox & the Chairman of the board
The AIM17 conference was a success and I would like to thank all the organising committee and scientific and engineering staff who contraibuted to make this the fantastic event that it was. When asked if I am happy with how it turned out… I have been answering ecstatic! We had 360 registrants for the conference, ~280 internal CSIRO staff, from every business unit and services, and 80 external participants.
There was a vibrant collegiate atmosphere, the professionalism displayed to our partners and the discussion following each of the AIM test bed pitches for funding.  The interactions I saw between people in every test bed and the number of enthusiastically engaged companies, venture capitalists and academics was outstanding. The number of times I heard, "nice to meet you in person instead of over video/phone/email" I stopped counting (my version was of this was "Oh, I have seen your name on a project proposal").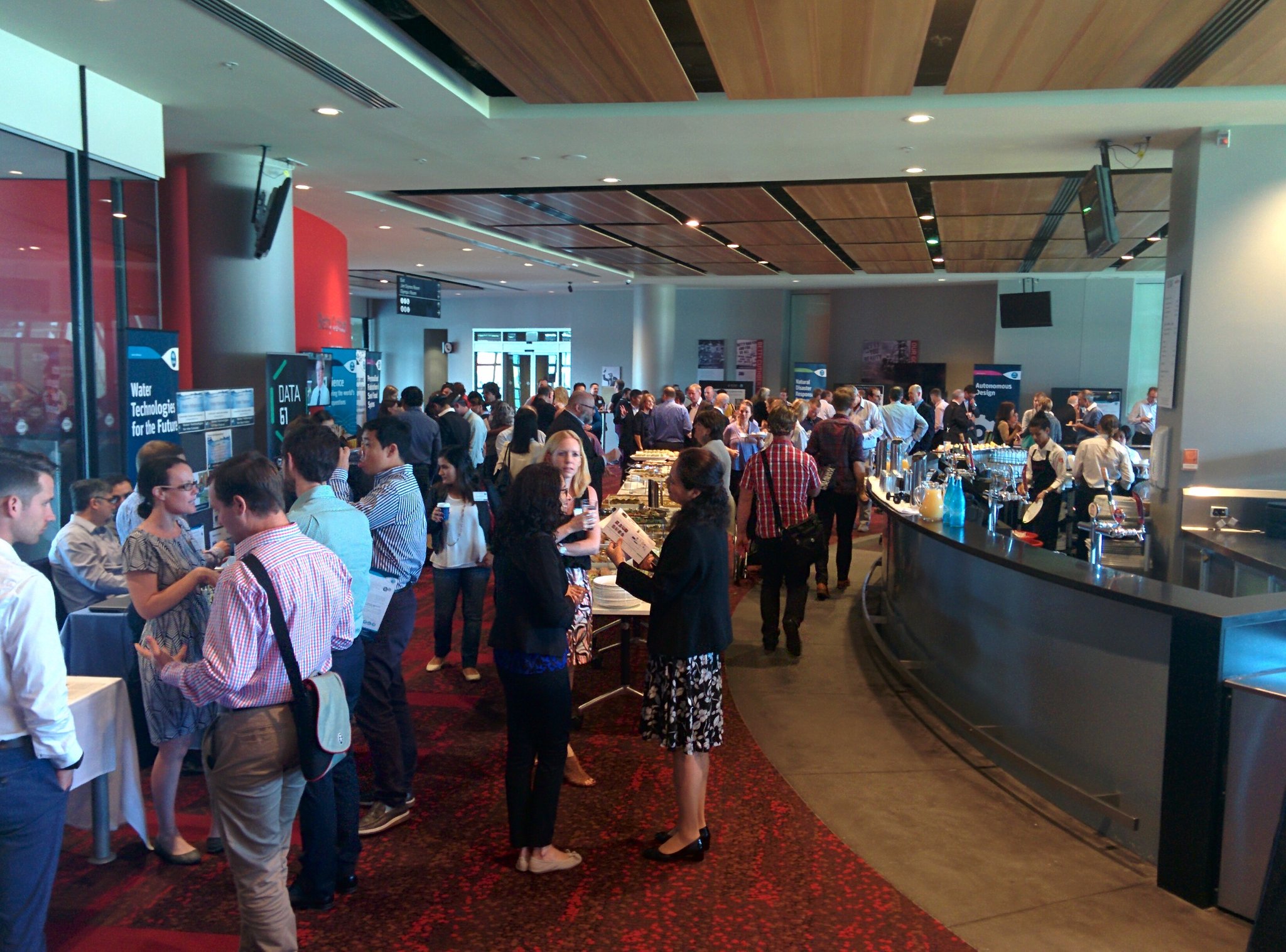 At the tech fest, the sensor and 3D printing booths from manufacturing; the robots and VR displays from IM&T AND Data61 and the DAP and Education booths from CSIRO services were all extremely popular.
 People across the organisation are now understanding what Future Science Platforms are, the vision of AIM in particular and the journey the AIM test bed participants have been on over the past 6 months. The value of the breadth of experience, discipline and scope that we have now in AIM, from pulling experienced resources from right across CSIRO, is evident in the quality of the science proposed for funding at the event. I know a number of you are concerned about our current breadth but the experience and strong collaboration of the scientists participating is an asset which will tie the science platform technologies together.
The external interest AIM17 generated is also substantial. We not only had 80 externals but we had the great people in the room. Anita Hill, CSIRO's Chief Scientist, commented to me on the high calibre of the partners that the event had attracted and appreciated the significance of this for our success. I had one venture capitalist come to talk to me multiple times over the course of the day even more excited each time about their future investment possibilities in our technologies when we are ready.
The conference was successful predominantly because of the efforts of our 189 staff now contributing to AIM who show cased their science and participated in the great collaborative and aspirational vibe of the conference. Thank you one and all.
Snapshot of Plenaries
David Thodey shared his role on the board, how he seeks to enable CSIRO staff to excel and held a Q&A with several curly questions thrown his way.
Jodie Fox was an inspirational Gala dinner speaker sharing her mass customised business model for Shoes of Prey.
Clare McLaughlin gave us feedback from NISA that our FSP initiative and AIM in particular is in line with their agenda of interdisciplinary research, partnership and collaboration.
Phil Ruthven founder of IBISWorld commented that he was impressed with our approach and counseled our scientists to keep an eye on economic trends.
Gusz Eiben head of Head of the Computational Intelligence group at VU Amsterdam described how he evolves robots and needs our capability to evolve materials to match.
Benny Freeman UTexas shared how much he valued his CSIRO collaboration and sought to renew it during his current Fulbright exchange, challenging our scientists to break the Robeson bound for water purification membranes.
Bruce Thomas, Uni SA shared how he currently makes his state of the art virtual displays with parts from Bunnings and challenged our scientists to make stimuli responsive materials that change colour and shape.
Our sincere thanks to all of our plenary and keynote speakers who shared their time with us at AIM17.