Digital Service Delivery

COVIU® is an emerging Data61 start-up company specialising in developing two innovative digital service delivery platforms underpinned by extensive WebRTC research and high level User Experience design. This usurps cumbersome video conferencing systems with multi-party, feature rich video collaboration using standard consumer hardware to deliver government, health and education services.
The COVIU® Team is made of experts with extensive experience in HTML5, WebRTC and Software as a Service delivery.
Digital Services Counter: Face-to-face services for all Australians
The centralisation of service centres has made it more challenging to achieve in-person access to government and corporate services, particularly for those in remote and rural communities. Additionally, service centres often deal with mass-market needs, with specialised services communicated via the more labour intensive channels of paper mail and telephone.

COVIU®'s Digital Services Counter has been developed to meet the needs of specialised and remote service delivery. A Web-based video communication system with document sharing, interactive form completion and desktop sharing features, this is a 100% Cloud Solution for smooth and efficient transactions.
Service Features:
Officer End Web-based video communication with secure, fully encrypted document sharing which integrates into existing workflows.
Customer End Different service options including different sized kiosk systems, single screens or a Website widget.
Three-way Conferencing ability to introduce third parties into a session such as supervisors, translators or sign language interpreters.
Allied Health Platform: Open a new portal to patient engagement
Across the globe, healthcare systems are straining under mounting demand with traditional models of location-based care viewed as increasingly unsustainable. Locally, one in four Australians are affected by chronic health conditions. Telehealth is rapidly emerging as a versatile solution for patients in both urban and rural areas.
COVIU®'s Allied Health Platform has been deployed to address a key health service delivery challenge – assisting Australians in rural areas.
SWAY – Sounds, Words, Aboriginal Language & Yarning
Sydney's Royal Far West School has used COVIU® technology to deliver face-to-face speech therapy and training for teachers with the aid of visual, child-friendly interactive documents and shared cursors. The SWAY project uses a customised interface. The set-up is affordable, relies on universally accessible software via the Web and offers higher quality video and audio than existing telehealth solutions.
NSW Centre for Effective Reading
Rese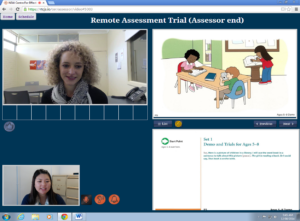 arch undertaken by a doctoral student found that COVIU®'s reading assessment interface produced the same results as sessions conducted in person. Incorporating touchscreens helped foster natural interactions between speech therapists and pupils. The ability to share stickers on the documents was perceived to be even better than real world interaction.
About Web Real Time Communication
WebRTC is a standardisation effort of the W3C (World Wide Web Consortium) to deliver real-time communication capabilities from within HTML5 based browsers such as Chrome and Firefox without the use of specialised, expensive video conferencing equipment. The development of WebRTC Open Standards has created a realm of opportunities to innovate in the remote service delivery space. Developers can integrate a range of technologies into Web browsers, including:
plug-in free, standardised peer-to-peer communication
secure, encrypted communications
high quality audio and video using modern codecs.
Get Involved
Data61 encourages Australian developers and companies to experiment with the technology which is maturing quickly, and will have a global impact on communication technology. To support our community, COVIU® has established a Meetup Group which organises presentations, Hackfests and other hands-on sessions. To join or find out more, head to: