Plastics Innovation Hub Vietnam
Science and technology solutions are being developed to tackle plastic waste in Vietnam.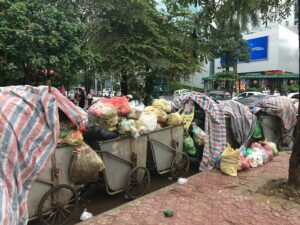 Globally, 75 per cent of plastic produced is becoming waste. To help address this, the Plastics Innovation Hub Vietnam (the Hub Vietnam) aims to significantly reduce plastic waste in Vietnam through key stakeholder collaborations and science and innovation excellence.
The Hub Vietnam is an initiative of Aus4Innovation, which is an official development assistance program, sponsored by DFAT, managed and co-funded by CSIRO and the Hanoi Embassy and delivered in strategic partnership with Vietnam's Ministry of Science and Technology (MOST) and with collaboration from the National Plastic Action Partnership and the Vietnam Administration of Seas and Islands (VASI).
Collaborations across the region will identify new approaches in reducing plastic waste and support Vietnam's pledge to reduce the flow of plastics into the ocean by 75 per cent by 2030.
The Hub will facilitate and provide momentum for self-sustaining multi-sided marketplaces where change can occur by enabling the collaboration between researchers, NGOs, SMEs, start-ups, government, industry and investors, through a series of activities that identify, initiate, build and grow solutions.
Research into plastic in Vietnam has already been undertaken as part of CSIRO's largest global plastic pollution survey. The goal of this work has been to identify how much and what types of rubbish end up in the environment. Additional work between Australia and Vietnam is also planned for the coming months, as Vietnam looks to develop a national data repository and expand their on-the-ground surveys.
The Hub Vietnam expands the reach of Plastics Innovation Hubs in the region, following the launch of a Plastics Innovation Hub in Indonesia in March 2022.
Find out more about the Indo-Pacific Plastic Innovation Network here.