India-Australia partnership
In June 2020, Prime Minister Scott Morrison of Australia and Prime Minister Narendra Modi of India agreed to collaborate on an ambitious program to reduce plastic waste.
CSIRO research and networks are identifying opportunities for Indian authorities and Australian firms to build recycling capabilities and inform the circular economy of plastics.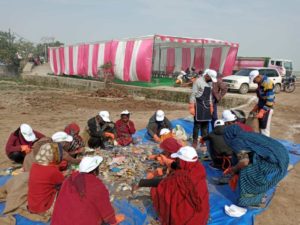 India is among the largest producers of polymers and among the largest generators of un-managed plastic waste leaching into terrestrial and marine ecosystems. India also has an economy and culture that repairs, re-uses and recycles its resources too.
In the years to come, the Australia-India project team will establish demonstration projects and convert their learning into recommendations for policy, industry, municipal and consumer stakeholders as a 'road map for a circular economy of plastics in India'.
CSIRO is working in partnership with Australian and Indian premier research institutes including the University of New South Wales, the University of Technology in Sydney, the Energy and Resources Institute, the Council of Scientific and Industrial Research (CSIR) and Development Alternatives.
Find out more about the India-Australia Circular Economy of Plastics initiative.