Readiness level metrics
The OzNome team is exploring the use of the well known Technology readiness level (TRL) and Investment readiness level (IRL) metrics, and supplementing them with the Community readiness level (CRL) as means of communicating levels of technical, business and social readiness/maturity. See figure below.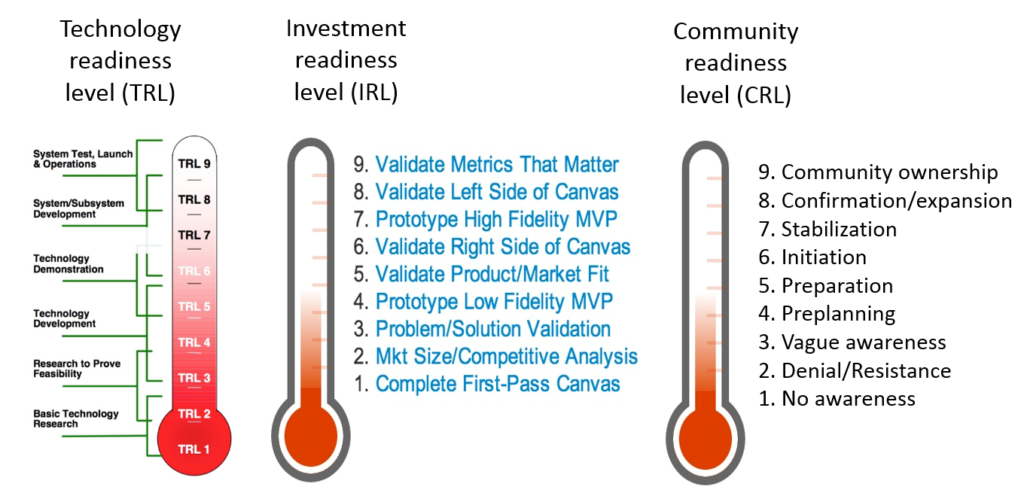 TRLs and IRLs are used by various in the startup and innovation community to communicate product/service/innovation maturity (refer to this link). We argue that TRLs and IRLs are necessary for testing demand for a certain technology solution but lacks the integration of a social dimension that is often the case with shared infrastructure – OzNome infrastructure implied this.
Community Readiness Level (CRL)
CRL is a rebadging of the Community Readiness Model developed by the Tri-Ethnic Center at Colorado State University (refer to this link). Community Readiness Model has been used to assess readiness for a variety of issues, including drug and alcohol use, domestic and sexual violence, head injury, HIV/AIDS, suicide, animal control issues, and environmental issues.
In combination, these can be used to assess the readiness of your community to act on/adopt various newer technology platforms, data standards, or data change initiative. Understanding TRL, IRL and CRL provides you with an understanding of what your organisation or community might need to do to enable change at the social, institutional, technical and informational level.
The OzNome team has conducted several workshops using this framing. Contact us for more details about our approach to assessing readiness levels and how this could help your information change initiative.