OzNome Gel
What is the "Gel"
The idea of the OzNome gel is inspired by biological sciences, where a "gel" or media is used to cultivate and nurture growth of specific organisms. In this case the "Gel" supports the capabilities of the OzNome initiative. It consists of 3 dimensions:
Social – social and institutional aspects necessary to achieve OzNome
Technical – the technical solutions of OzNome and,
Information – the information architecture of OzNome.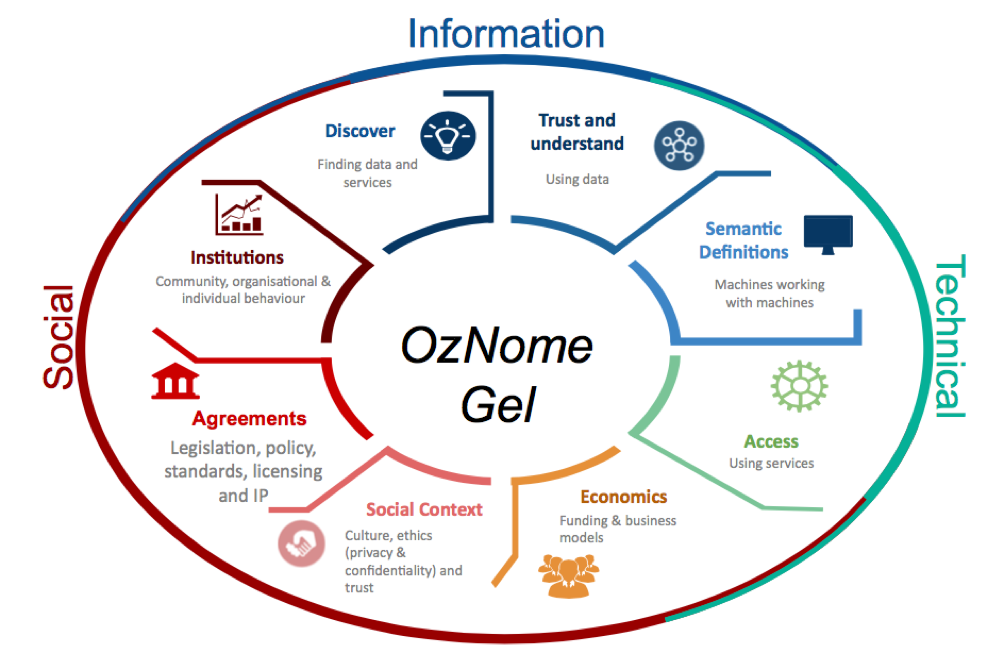 Social
The social viewpoint in OzNome refers to constructs that allow information ecosystems to function efficiently – people, processes, procedures, social architecture, governance, policies, rules. These include:
Existing agreements – policy regulation, legislation, licencing and standards
Institutions – organisational and group behaviors
Social context – attitudes, ethics and privacy
Economics – return on investment and funding models
For example, road infrastructure would not be efficient if were not for the various rules employed to regulate its use.
Specific activities being explored through the social viewpoint are:
Transformation of how people use data in their workflows
Online documentation/material published and socialised
Social architecture design (principles, policies, and processes)
Informational
The informational viewpoint in OzNome concerns the content in the data or information product itself including the implicit/explicit semantics, its description and its structure. These allow people and machines to be able to discover, access, understand and use it in the most appropriate context.
Specific activities being explored through the informational viewpoint are:
Identification of key digital assets (datasets, models, code, papers)
Building infrastructure around key digital assets and socialising how to leverage them (tools and methods)
Examples include:
Technical
The technical viewpoints in OzNome concern implementation patterns, technology standards, service interfaces, established IT infrastructure, new and emerging digital technologies. The technical components is what allows data to flow and for people and machines to be able to:
capture, digitise and store,
send and receive,
encode and decode,
describe and understand information in context
This enables people and machines to answer questions like:
Where can I find discover data?
How can I access it?
How do I use it?
Where did the data came from and what is it about?
Can I trust it?
Is it the right piece of data for my use?
What is the terms and conditions for the access and use of the data?
Specific activities being explored through the technical viewpoint are:
Making digital infrastructure and tools available to enhance project/research workflows and increase productivity and enable OzNome outcomes (gain efficiencies, realise latent value in research outputs and data)