Medical PPE
We provide accredited testing services for single-use medical masks.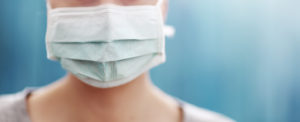 Respiratory and surgical protective devices such as face masks are highly-engineered to ensure the provide the required performance, safety, quality and suitability for purpose.
Personal protective equipment (PPE) that is designed for use by medical staff or otherwise is claimed to provide therapeutic effect, must be registered on the Australian Register for Therapeutic Goods (ARTG). Registration on the ARTG by manufacturer/distributors is required be on the basis of Declarations of Conformity to criteria (Standards) relevant to Essential Principles as published by the TGA.
To facilitate ARTG registrations, CSIRO operates an accredited testing facility to help manufacturers supply masks to both hospitals and the general public.
Located at CSIRO's Clayton site in Victoria, the Medical PPE test laboratory is accredited by the National Association of Testing Authorities (NATA) and has the capacity to provide a rapid turnaround on surgical face mask testing. The laboratory conducts testing of single-use masks to three functional aspects of AS 4381 as follows:
ISO 22609:2014 – Test method for resistance by synthetic blood
EN 14683:2014 Annex B – Method for in-vitro determination of bacterial filtration efficiency (BFE)
EN 14683:2014 Annex C – Method for determination of breathability (differential pressure)
The laboratory is capable of testing complete manufactured surgical masks as well as new materials developed for use in commercial production of surgical masks. More information is provided at the links below:
The Medical PPE testing laboratory operates as a part of the CSIRO Fire Systems Laboratory. Feedback related to the activities of the laboratory is welcomed. All complaints, suggestions or comments may be directed to:
Dr. Christopher Preston
CSIRO Fire Systems Laboratory Manager
email: christopher.preston@csiro.au