Sprinklers
Maintenance of fire sprinklers
The Fire Systems Laboratory provides a testing service to satisfy the requirement of AS 1851 as they apply to maintenance testing of fire sprinklers and multi-jet controls.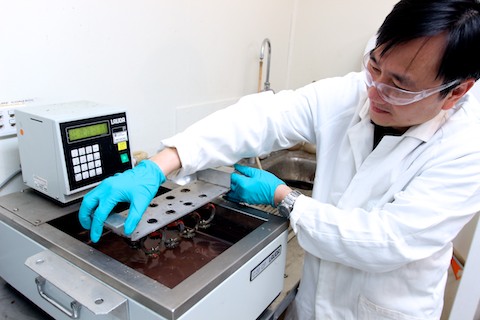 The test procedure applied to sprinkler heads is documented in CSIRO Test Specification FTS-123 [ddownload id="876″].
The laboratory is NATA accredited for test method FTS-123.
The pre-matter of FTS-123 is provided below:
1.1 SCOPE. This test specification sets out the method for determining the operating characteristics of fire sprinkler heads.

1.2 APPLICATION. This specification applies to sprinklers and multiple jet controls submitted for testing in association with the maintenance requirements of AS 1851-2012.

1.3 REFERENCE DOCUMENTS. The following documents were referred to in the preparation of this Specification:

STANDARDS

AS 1000-1998 The international system of units (SI) and its application.

AS 1851-2012 Maintenance of Fire Protection Systems and Equipment

AS 2706-2003 Numerical values — Rounding and interpretation of limiting values

ISO 6182-1:2004 Fire protection — Automatic sprinkler systems — Part 1: Requirements and test methods for sprinklers