How is the Waterbirds Theme collecting waterbird breeding and movement information?
We're collecting information through field research in and around known waterbird nesting sites at wetlands within the Murray-Darling Basin. We are using three exciting techniques to collect data:
On-ground field surveys
Field surveys will be conducted at breeding sites to identify the species breeding, track the number and size of breeding colonies (which can change over time during a breeding season), monitor changes in water levels, and identify critical nesting habitat characteristics.  Field surveys will also be conducted at foraging sites to identify critical foraging habitat locations and characteristics and estimate foraging success rates.
Satellite GPS tracking devices and bird banding
Satellite GPS tracking devices will be deployed on straw-necked ibis adults and juveniles to track movements of individuals during and after nesting. From this data we can identify where and how far birds are travelling to feed and to get food for chicks, where juvenile birds are dispersing to once independent, and where adults disperse to after breeding. We also expect to be able to establish whether individuals return to the same sites to breed in subsequent years. This will be one of the largest satellite GPS tracking studies of any bird species in Australia. We'll also be attaching identification bands to the legs of birds to permanently track their individual movements throughout Australia, contributing valuable knowledge to the Australian Bird and Bat Banding Scheme (ABBBS).
Check out the reasons why we are satellite tracking straw-necked ibis HERE
Motion-sensing and time-lapse cameras
Monitoring cameras will be focused on nests in breeding colonies throughout the breeding season. By analysing camera images we'll be able to quantify the survival of chicks through to fledging, and the influence of threats like predation and water level changes. All these factors are essential to filling our two critical knowledge gaps.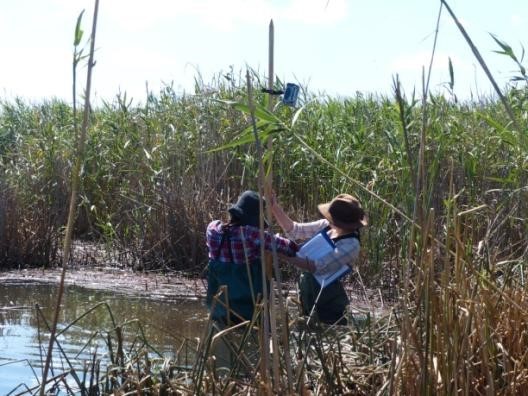 What was achieved during a pilot study?
We undertook a pilot study in the summer 2015-2016 breeding season at Barmah-Millewa Forest. Barmah-Millewa is an important waterbird breeding site on the Murray River and also a Ramsar listed wetland. We set up motion-sensing and time-lapse cameras at the nests of Australian white ibis, straw-necked ibis and royal spoonbills. Our cameras monitored nests from the egg stage through to the time juvenile birds began to leave. So far our analysis of the camera images has provided us with preliminary recruitment data, as well as giving us new insights into the nesting behaviours of these species.