History Of Remote Sensing In eReefs
The satellite data production system developed by CSIRO was previously run operationally by the Bureau of Meteorology to support their Marine Water Quality Dashboard. Although now decommissioned, the outcomes of this collaboration are still available via the eReefs visportal.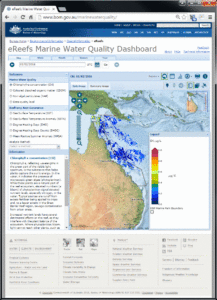 The Bureau's Marine Water Quality Dashboard was built upon the satellite data processing system developed by CSIRO.